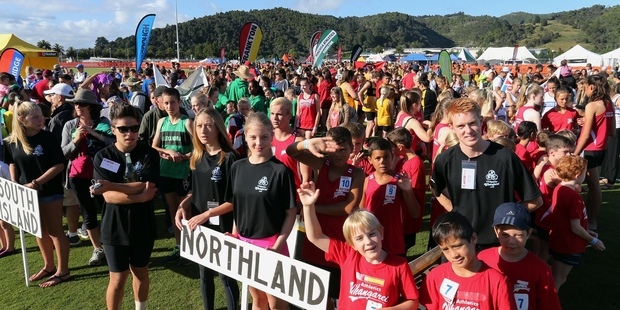 Kensington Park was a rainbow of colour with athletics clubs from across the country competing on the first day of the Colgate Games.
The North Island leg of the games - New Zealand's national junior athletics championships - started yesterday in Whangarei, with more than 1054 young athletes competing, including 181 from Northland. "The weather is marvellous and it's a great facility which gives athletes in Northland a great environment to train in in all conditions," said NZ Children's Athletics Association (NZCAA) president Brian Curry. The games will run until Sunday and are for athletes aged 7 to 14 who can compete in up to four track and/or field events in their grade, plus relay events.
Northland is represented by children from Athletics Whangarei, Hokianga Athletics Club, Kaitaia Athletic Club, Kaiwaka AAC, Kamo AAC, Kerikeri Striders, Warkworth Athletic & Harrier Club and Wellsford Athletic Club.
The event is expected to pump tens of thousands of dollars into the local economy, as the children are accompanied by many adults. Visitors are likely to be staying the weekend. This year is the first time Northland has hosted the games since 1998, the event being the biggest track and field competition for children aged 7-14.
Catherine Kashammer, 13, was at the games yesterday representing Wellsford Athletic Club. She spoke to The Northern Advocate just before her 80m hurdles race. "I'm nervous but I'll be glad to get it over and done with," she said.
Her stronger track events are the 800m and 1500m races, so her goals for the hurdles were: "Don't come last, don't knock over the hurdles, don't trip over and do my best." She also enjoys running on the Kensington track - "It's a really good track" - and thought so far Northlanders overall were doing "really well".
The games were to kick off at 9am today and tomorrow. Entry is $6 for an adult day pass or $15 for a weekend adult pass. Children free.