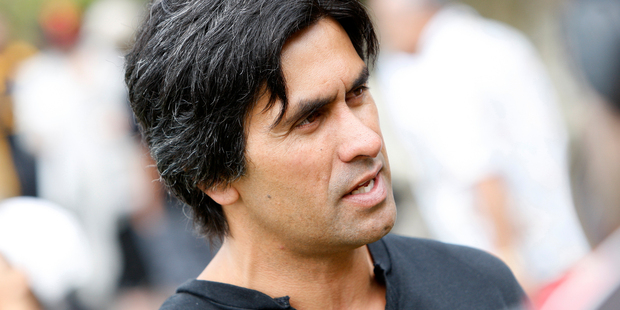 John McGrath is the winner of The Whangarei Report New Year's Honours, for raising community awareness around domestic violence following the death of his sister, just over a year ago.
His sister - 34-year-old mother of two Patricia `Wowo' McGrath - died in Whangarei Hospital last January after being taken off life support following an assault in her Kamo home four days earlier.
Nine days after Wowo was buried, John McGrath led whanau and hundreds more in a march through central Whangarei to push the message domestic violence is not okay.
``We must find a way to stop the abuse starting. Educating that it is unacceptable to hurt those closest to you and that even one experience of domestic abuse can be enough to alter people's lives irreparably,'' John McGrath said at the march.
``We fully support the white ribbon campaign and intend on doing as much as possible to educate and motivate others to leave or change similar situations in which they might find themselves.''
In August last year, a DVD was released called Enough is Enough _ a 24-minute documentary in memory of Wowo. During the documentary, Mr McGrath said it was time for leaders in the community to stand up against violence.
``In the Maori world the first person to be created was Hineahuone _ a female. Women should be held up there - they are really tapu - we need to worship our women. For this to happen from our own men is mind blowing - it should not happen, it should not happen, enough is enough.''
Mr McGrath was nominated anonymously, and he would to to thank the person who nominated him. ``I am absolutely honoured,'' he said.
Junior winner
Tiegan Hemmins is a 14-year-old student at Pompallier College, who for the last two years has been assistant coach for the Special Olympics Whangarei Indoor Bowls. She is the junior winner of The Whangarei Report New Year's Honours.
She was nominated by Special Olympics Whangarei chairperson Andrew Langford and treasurer Glynis Collins.
``Tiegan is the youngest coach to attend the 2013 National Summer Games recently held at Dunedin and, until taking up helping her mother Joy with the local teams, had never had anything to do with those with special needs except through pupils at Pompallier College, and having being on a couple of competitions trips away.''
Tiegan has just finished Year 10 with high academic achievement, while also juggling involvement with bowls and hockey, Ms Collins said.
The academic awards she received included second equal in English, Social Studies and French, first equal and excellence in Religious Studies, Academic Student in Year 10 (Dux - The PIFA Trophy) and was placed on the Year 10 Honour Roll for 2013.
``During the Games, Tiegan worked tirelessly from early rising at 5am to getting them to their rooms at 9.30pm, fitting in some study, pushing the wheelchair athlete to and from the buses, getting them to their meals, games and the Healthy Athletes Programme, which is held during the games to monitor the athletes eyes, teeth, hearing and feet, which is so important to their wellbeing and kept on a database,'' Ms Collins said.
``For a 14-year-old this was such an experience that certainly needs recognising and all the time smiling, making the athletes feel good during their six days away. Tiegan, Special Olympics Whangarei are proud of you and believe you deserve to be recognised in The Whangarei Report New Year's Honours Award.''
Nominations
Heather Spry nominated Pauline Dinsdale and her father Colin.
Tanya Hay nominated Elizabeth Inch ``Always putting others first and raising awareness to help others,'' she said.
Ria Miagloo nominated Phil Paikea of of Bream Bay Trust _ ``who does so much for our community here and founder of the bream bay White Ribbon Ride'' _ Wade Doak _ ``who has spent a lifetime promoting marine conservation'' _ and Tracey Stevens _ ``who time and time again puts herself and her time out there taking amazing photographs for CanTeen and some other amazing charities''.
Samantha Naera nominated Stephenie Williams for Pay it Forward.
Jo Hardy nominated Kaari Schlebach. ``Tireless organiser of community projects and events (eg Artisans Fair and the Mayoral Talk Whangarei Facebook forum and lots of other things other people know more about than I do) and great supporter of the arts.''
Roimata Rihari-Wrigley nominated Al Kirk ``Headmaster of WBHS who has done an amazing job with his team churning out some awesome young men for over 10 years!''
Sandra Nink nominated Gavin Greenfield ``Principal from Kamo High School for turning the school around after much bad publicity and having such a proud community behind him now. He is a star!''
Ashaa Joyce nominated Fred Tito. ``He has done alot of blessings/openings for new and existing business. Also envolved with matakohe island and releasing of the kiwis and with th kiwi museum. He has done a lot for Whangarei _ way to much to list.''
Vikk-toria Collier-Jaggard nominated Jill Collier - ``I think my mum is a true Whangalady. She has helped so many people from all her children's friends get work. She was a AA sponsor after her own fight. She was a great boss and team leader. People stop in the street because she has left an impression on their lives. She is the best mother, grandmother and best friend. She now works as a tutor helping men and woman in to jobs. I know there are a handful of people like this but I think my mum should get a special mention.''
Matiu Boyce nominated Matthew Rushbrook. ``He is such a great guy, his life evolves around children, he lives and breathes children! He's always thinking about kids.''
Nikki Rochelle nominated Tracey Hayes. ``She has helped alot of new mums/old mums bring life into the world. Shes an all around awesome person and always smiling no matter what the world throws at her!''
Pauline Dinsdale nominated Colin Thorne. ``[He] recently completed in New York Marathon at age 89 and goal is to complete his 50th marathon at the 50th anniversary of Rotorua Marathon in May 2014 when he will be 90 years old. He is an true inspiration and legend in Whangarei for being so active at his age ... and no signs of stopping yet.''
Stephenie Williams I would love to nominate her admin from Pay it Forward Whangarei/Auckland and Bay of Islands. ``If it wasn't for these ladies helping me to run this page which have over 10 thousand members combined, I wouldn't be able to do it.''
Wade Doak and Gerry Brackenbury were anonymously nominated.
John McGrath was also anonymously nominated, for making a stand against domestic violence following the death of Patricia Wowo McGrath.
Andrew Langford and Glynis Collins nominated Tiegan Hemmins for her work with Special Olympics Whangarei.