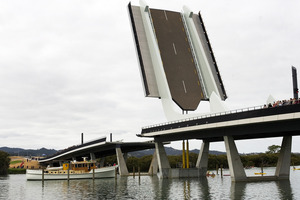 Work will begin tomorrow on managing heat-related issues that mean Whangarei's new $28 million bridge could jam if the temperature gets above 26C.
The Northern Advocate revealed on Tuesday that the steel bascule on Te Matau a Pohe (the Fishhook of Pohe) bridge across Whangarei Harbour expands more than expected once it gets over 26C.
The bridge will be closed to traffic between 10am and 4pm tomorrow work to manage heat related expansion of the lifting platform on Te Matau a Pohe and replace grout that supports the track that the opening section rolls back onto are carried out, Whangarei District Council project manager Mark Seakins said.
The bridge will be in the the open position for boats from 11am to 2pm tomorrow. Then from 2pm tomorrow until 6am Saturday the bridge will be closed to boats over 6.5 metres to allow 36 hours for the track grout to set.
"It is planned that this work will allow the bridge to be lifted at higher temperatures, although it will be monitored in case further adjustments are needed," Mr Seakins said.
"We strongly recommend that skippers planning to travel through the bridge in the next 48 hours do so between 11am and 2pm tomorrow."
He said skippers should check with Bridge Control for an update before starting their journey. The contacts for Bridge Control are: VHF Channel 64, mobile +64 (0)21 401 752 or Landline +64 (0)9 438 7261.
Mr Seakins aid the council apologised for the short notice of this work and any inconvenience caused.
Earlier this week council roading manager Jeff Devine saying the bridge's unique design is partly behind the situation.
The council opened Te Matau a Pohe (the Fishhook of Pohe) bascule bridge across the harbour last July, with national transport funding body NZ Transport Agency putting in $14 million of the $28 million construction cost.