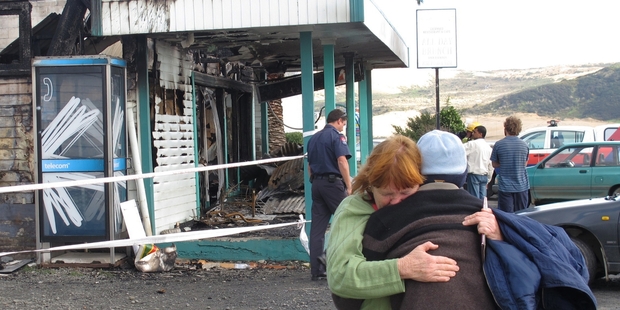 Hokianga's council-owned visitor information centre has been leased out long-term as a grocery store to replace the Opononi Four Square shop destroyed by fire in June.
The Hokianga Economic Development Centre on the Opononi waterfront has housed an i-Site since 2009, but since the fire the building has been shared by the information centre and a temporary grocery shop. The arrangement means locals don't have to drive to Rawene or Waimamaku to visit a superette while the shop is rebuilt.
But the Far North District Council has now decided to lease out the entire building long-term to Shri Krishna Enterprises, the company operating Opononi's Four Square, causing consternation for some members of the Hokianga tourist industry.
Far North Mayor John Carter said the council had yet to decide how to provide a visitor information service in Hokianga after the summer but was committed to continuing an information centre at Opononi.
"The grocery store and i-Site both need more retail space than the 225sq m centre can provide, so we've had to make some decisions about the future use of the centre."
Councillors resolved at their November 28 meeting to lease the entire centre to Shri Krishna Enterprises on a long-term basis, Mr Carter said.
The i-Site and Four Square would continue to share the building until the peak visitor season ended in March, but the Four Square would be the sole occupier after that.
Council staff were investigating options for a new information centre on the 6000sq m site. Councillors were expected to make a decision soon.
Mr Carter said he was aware some residents and businesses were concerned about the future of the Hokianga i-Site.
"We wish to assure them that we're committed to operating a visitor information centre on this site in the long-term. We will make an announcement about how we plan to do this as soon as we are in a position to do so," he said.
The council issued a building consent on October 9 to allow Reva Investments Ltd to construct a building to replace the old Four Square. It is not clear what business will occupy the building.