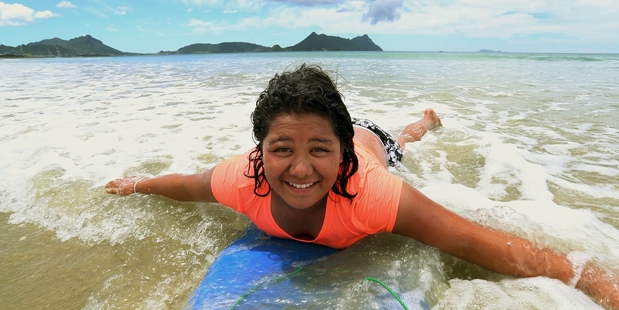 Summer has finally arrived in Northland and muggy conditions are expected to last at least until Easter.
Searing temperatures are driving many to the beaches to cool off and weather forecasters say if the temperature hits 29C today, it will be the highest so far this summer.
Today's temperature is forecast to be 28C while Sunday's is expected to be one degree higher.
MetService weather forecaster Ian Gall said some cloud was expected for Northland this morning before skies would clear, with temperatures expected to hover between 25C and 28C.
"Northland's well into summer temperatures and will have warmer days until Easter. January and February is typically the warmest part of the year," he said.
A few showers are expected on late Sunday before the wind changes to southwest.
Mr Gall said humidity was a result of the moist northwesterly winds.
Northland towns were in the top five in terms of temperatures on Thursday throughout the country.
Whangarei Airport's temperature of 25.4C was second only to Gisborne Airport's 27.8C.
Kerikeri Airport was fourth at 25.2C.
While wind gusts of 100km/h were battering the lower North Island yesterday, Whangarei recorded daytime temperatures of mid-to-late 20s in cloudy conditions.
The official temperature yesterday was 27.5C recorded at 2.30pm.
Sam Nelson was out for a dip in waters off Ruakaka Beach yesterday with son Rawiri, 7.
"We're blessed to have the beach so close so we can come here whenever we want. Kids love it here and the weather's awesome," he said.
A young couple from west Auckland were also at the beach and have indulged in many outdoor activities since driving up before Christmas.
"Been up to Coopers Beach then back down here. Did a bit of fishing this morning [Friday]. Wish the surf was a bit bigger," said the man who didn't wish to be identified.
The temperature inside a car at the Ruakaka races yesterday was 44C.