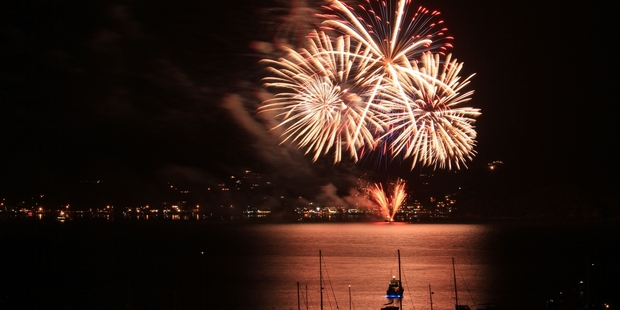 Paihia was the only trouble spot as Northlanders welcomed 2014 with good behaviour on New Year's Eve.
And even though a few of the thousands of revellers in Paihia were pulled up by police, the officer in charge in the Bay of Islands, Senior Sergeant Peter Robinson, said the crowd was generally well-behaved.
He also thought there were fewer people than there had been at previous New Year's Eve celebrations in the six years he had been based in the Bay.
Police made 16 arrests, mainly for disorderly behaviour, fighting and minor assaults, with all offences involving alcohol, he said.
The total compared with six arrests last New Year's Eve and 25 the previous year.
About 35 people were issued with infringement notices for having alcohol in an area where liquor was banned on Tuesday night.
The crowd had thinned out after a fireworks display at midnight welcomed in the New Year.
Pubs which usually closed at 1am had special licences to remain open until 3am yesterday.
Mr Robinson said some police reinforcements had been brought in from Whangarei, but declined to specify police numbers.
"We are pleased with the outcome of the police operation," he said.
"There were no robberies, serious assaults or other serious crimes and there were no injuries."
Mr Robinson said police at other Mid North centres had reported no serious incidents in their areas on New Year's Eve.
Kaitaia police could not be reached for comment yesterday, but the Police Communications Centre in Auckland said no major incidents had been reported in the Far North.
Whangarei/Kaipara police area commander Inspector Tracy Phillips said Whangarei and Dargaville had been quiet on New Year's Eve, with only minor incidents requiring police attention.
More than 4000 people had attended the Northern Bass concert on a Kaiwaka Farm on Tuesday.
Ms Phillips described the concert as "a very well-run, very safe event".
The main police action in Whangarei had been ticketing motorists for driving with excess breath alcohol.
"I caught a couple myself," Ms Phillips said.
Whangarei police sergeant Craig Burrows said several motorists had been charged with drink-driving offences overnight on New Year's Eve and six more were nabbed in the city between 7-11am yesterday.
Meanwhile, Kaeo volunteer firefighters got an early introduction to 2014 with a callout to a blaze caused by New Year's Eve revellers' fireworks at 12.10am yesterday. Kaeo chief fire officer Lindsay Murray said a "wonky" fire cracker had set alight vegetation in front of a new house overlooking Mahinepua Bay.
"The house had road borders on two sides. It was a still night and there was a good lawn around the house, so the fire would eventually have burnt itself out without causing any damage, but we put it out anyway," he said.
The Kerikeri brigade's tanker was turned back. The five Kaeo firefighters and a team from the Hihi Rural Fire Party used a portable pump to draw water from the house tank to quench the flames.
Mr Murray said firefighters also spent about 30 minutes looking for a visitor at the house who had disappeared: "She was okay - she had just taken a dog for a walk."
Meanwhile, the Whangarei Fire Service started the New Year with a callout to a toaster fire at a house in Garden Court, Woodhill, at 7.06am yesterday.
Residents used a garden hose to put out the flames and when firefighters arrived all that was left to do was make sure the pantry area was well ventilated.