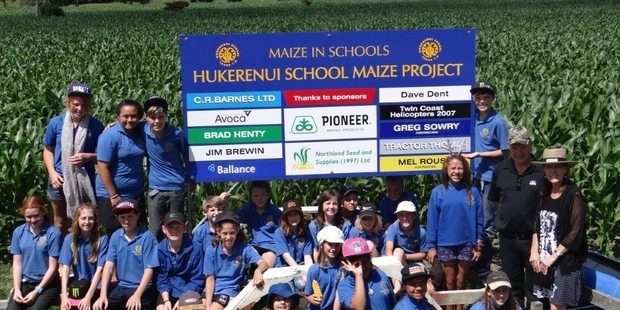 It's taken a community effort to develop a new maize project at Hukerenui School.
The school's Community Problem Solving Team, which is part of New Zealand's Future Problem Solving Programme for the gifted and talented, started an inquiry into the best use of the school's land for real-life learning.
Being a rural school, the focus was to enhance the agricultural nature to support learning.
The students contacted Craig Booth from Pioneer Seeds to find out whether planting maize would be an option for the school and whether Pioneer Seeds could provide some sponsorship.
The support was overwhelming and with advice from Mr Booth, the Problem Solvers started looking for more land outside the school. They made a presentation to local landowner Dave Dent, who had 5 hectares of land available close to the school and he was happy to lease the land and buy the maize too.
Contractors from Northland Seeds supported the school to manage the crops.
Students from year 7 and 8, along with teacher Patsy Bray, took on board the business of becoming maize farmers, creating a company called A-Maizing Maize. The science, social science, technology and enterprise learning that took place was incredible, said principal Bastienne Kruger.
"Doing soil samples with Evan Smeath, chasing cutworm and snails, doing the rain dance, learning how to co-ordinate contractors, how to make business phone calls and how not to spread urea taught them some hard lessons," Ms Kruger said.
The school is now looking at sustaining this enterprise for the future and for all the year 7 and 8 class to experience hands-on learning through rural enterprise by planting maize.