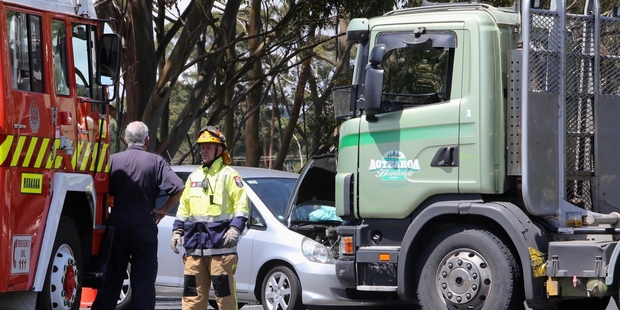 A Waipu woman whose neck was broken in two places when the car she was in and a logging truck collided head-on is warning drivers to take care at the junction of State Highway 1 and Otaika Valley/Loop Rd.
The woman and her partner, in their seventies, were heading north to go shopping in Whangarei on December 16 when the fully-laden truck pulled out of Loop Rd and hit their car.
"The driver didn't see us. We were just suddenly facing this huge truck. I thought we were both going to be killed," the woman, who did not want to be named, said.
She received two broken and one cracked vertebrae in her neck, spent five days in a spinal unit in hospital, has to wear a neck brace for four months and, although not completely bed-ridden, must move as little as possible. She was also badly concussed, and her partner severely bruised.
She wants to thank the people who were first at the scene to assist on that Monday two weeks ago, in particular the firemen who ensured her neck was braced before extracting her from the crushed car.
The woman said at the time there were fears the car might catch on fire. "We're so grateful to everyone who helped,' she said.
"That intersection is dangerous. Hopefully something can be done about it but in the meantime I want to warn people to be very careful there."
Otaika Valley Rd and logging truck accidents were in the news several times over the last two years. Several logging truck crashes and a fatality on the road in 2012 were followed by rollovers on February 20 and 27 and on August 9 this year.
Representatives from the community, Police, Whangarei District Council, road safety agencies and the log transport industry aired the problem at a public meeting in August, where a commitment was made to voluntarily reduce truck speed and increase driver awareness on Otaika Valley Rd. The road runs 9.7km from State Highway 14 at Maungatapere to Loop Rd. The industry agreed to detour trucks along Loop Rd onto SH1 rather than past Otaika Valley School.