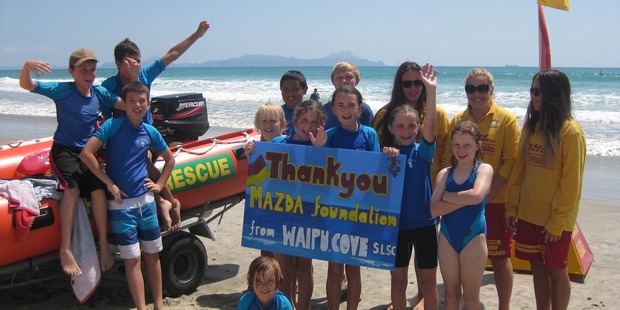 THE Mazda Foundation has donated more than $15,000 to assist two Northlanders dealing with lifelong illnesses and a local surf life saving club to fund essential equipment as part of its final round of funding for 2013.
The Waipu Cove Surf Live Saving Club received about $6000 to purchase a new motor for its inflatable rescue boat (IRB), assisting in keeping Northlanders safe over summer.
Club president Rick Stolwerk said the IRB motor is due for renewal, as it has become a risk during emergency situations.
"Waipu Surf Life Saving Club is required to provide a safe and reliable service to our community during the summer months," he said.
"Once a motor becomes old or undergoes repairs, it poses a risk during emergency situations. Our equipment needs to be in perfect condition to ensure our rescues do not turn bad.
"The current motor is ageing and not in the best condition, so we are thrilled that the Mazda Foundation has provided the funds so we can purchase a new motor for our IRB."
The Foundation also provided $7650 to fund a hydrotherapy massage jet spa pool for Lily, a 3-year-old girl from Waipu with Bethlem Myopathy, a rare genetic condition.
Lily's mother Devon Melia hopes this treatment will help her daughter develop enough muscle strength to begin walking.
"When Lily was around eight months old we noticed she wasn't reaching the milestones we were expecting and she seemed at times in a world of her own. Her development was a very slow process," she said.
"Now at three and a half, Lily is only just starting to eat dry food such as bread and crackers. She has a significant hearing loss, speech delays and she has poor muscle tone, brought on by her inability to move around.
"The only form of exercise Lily can participate in is swimming. The spa pool will provide regular hydrotherapy at home which we hope will allow Lily to eventually walk."
Also receiving support from the Foundation was Whangarei's Liz Cassidy-Nelson who received $1455 of funding to allow her and her 9-year-old son Calvin to travel to Sydney to find out more about his condition known as Beckwith-Wiedemann syndrome. It is an overgrowth disorder with sufferers also at greater risk of getting cancer.
"It's a rare condition which we are still learning about," Liz said. "The conference in Sydney will provide a valuable opportunity for us to meet with specialists from America and learn a lot more about the syndrome from people with expert knowledge."
The money received will also help Calvin and his family to develop a plan for his future.
"In his short life, Calvin has undergone numerous surgeries on his tongue and organs, and undergoes regular screenings for signs of cancer. So the expert knowledge we will receive at the conference will help us understand what issues to expect as Calvin matures into an adult and how to go about giving him a better quality of life."
These were just three of 20 grants given out in the Mazda Foundation's latest round of funding which saw more than $51,000 distributed across the country.