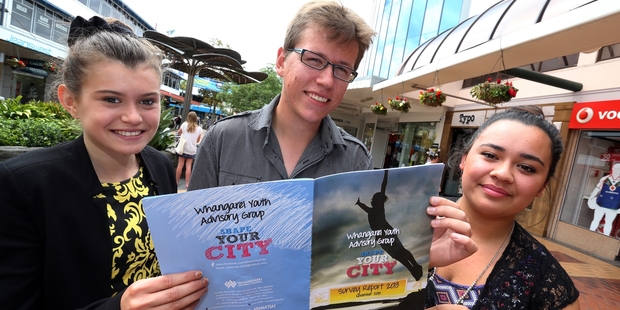 Young people in Whangarei believe the lack of jobs is the biggest challenge they face, a ground-breaking survey of more than 700 youth has found.
The Whangarei District Council (WDC) Youth Advisory Group (YAG) surveyed people aged 12 to 24 to identify issues and areas of dissatisfaction young people have in Whangarei.
The YAG presented their findings, the first of its kind, in a report to the WDC planning committee last week.
The survey Shape Your City found that just 13 per cent of youth think the job opportunities in Whangarei are good. Sixty-eight per cent of youth said Whangarei was a hard place to get a job.
When asked "What is most important to you?" 50 per cent of youth said employment, 30 per cent said recreational activities, 13 per cent said tertiary education and 7 per cent said public transport.
Ryan Marsich, 20, project manager for the survey, said he wasn't surprised with the results.
"I understood that employment would rate highly for young people - It's very important for any person," he said.
Employment does not come under WDC's responsibilities in the Local Government Act, however, the YAG have goals they want council to take on board.
"They can make a friendlier employment atmosphere for young people. They can meet with stakeholders and talk about jobs for young people.
"We will have goals to put forward to them in the future," he said.
Council district living group manager Paul Dell said the council was working closely with YAG and everything the council did for the youth sector would include consultation with the group.
He said the next stage would be looking at implementing a plan based on survey findings.
"And having the conversation about what council could do to address some of these issues."
Councillor Crichton Christie found it interesting that 70 per cent of youth respondents did not think there was anything holding them back from going to university elsewhere and 50 per cent saw jobs as the most important issue for them.
This was the first extensive consultation between youth and WDC, Mr Marsich said.
"We're very enthusiastic about it. We all understand that this is quite a historic thing."
YAG objectives include seeing the enhancement of employment and training opportunities for young people, enhancement of recreational activities for young people, and further consultation between WDC and youth in Whangarei District.
Mr Marsich said the survey results around tertiary education didn't match the feeling he had noticed "on the ground" in regards to opportunities for young people in Whangarei.
He said a university in Whangarei is something he would like to see in the future, and compared Dunedin's lively atmosphere to what Whangarei could achieve with a university.