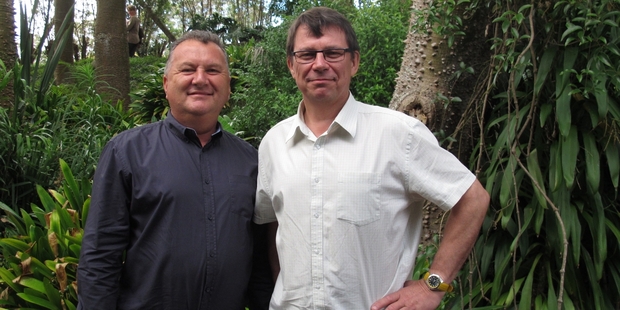 A giant Norwegian oil company is pledging openness and a listening ear as it prepares to explore the Reinga Basin, off Northland's west coast.
Last week, the mostly state-owned Statoil was granted a 15-year permit to explore the 10,000sq km basin, about 100km off Ninety Mile Beach.
Since then the company's bosses have been touring Northland in a bid to learn about the region.
Pal Haremo, Statoil's vice-president exploration, was in Northland yesterday meeting MPs, iwi leaders and others and said any decision about drilling was six years away.
Mr Haremo said the Reinga Basin had great potential but its geology was still uncertain. The company would spend the next three years collecting seismic data. If the basin still looked promising, it would explore for three more years before deciding whether to drill for oil.
Reinga compared well with other "frontier basins" but for every 20 such basins explored only one delivered results.
It was too early to say what the benefits would be for Northland, except that exploration could create future opportunities. If oil was found, Statoil would contribute to local communities, as it had in Norway, where several regions had benefited greatly.
There were risks with oil exploration but safe and secure operations were the firm's top priority, Mr Haremo said.
Asked about Maori concerns about a lack of consultation before the basin was put out to tender, Mr Haremo said the company's strategy was to operate in an open and trustful way, "so any stakeholder feels that Statoil is listening the best they can".
"We also have indigenous people in Norway [the Sami], so these are issues that we are somewhat familiar with, though they are different from country to country." Mr Haremo said he was using his first four-day visit to familiarise himself with Northland and how things worked.
He had already decided the company would set up an office in the new year for local stakeholders who wanted to talk to company representatives.
"We are not afraid of dialogue and open communications. We have had successes with that in Norway and we hope to do it here. My intention is to listen more than tell." The Statoil delegation has visited Cape Reinga and Ninety Mile Beach, and met MPs, iwi and local leaders including Shane Jones, Hone Harawira, Haami Piripi and John Carter.
Statoil is active in 35 countries and produces 2 million barrels of oil a day.
Mr Jones said oil was "a long shot" for the North with any drilling unlikely before 2020.
The Norwegian company had long-standing environmental credentials but the industry had yet to win acceptance from the public, he said.