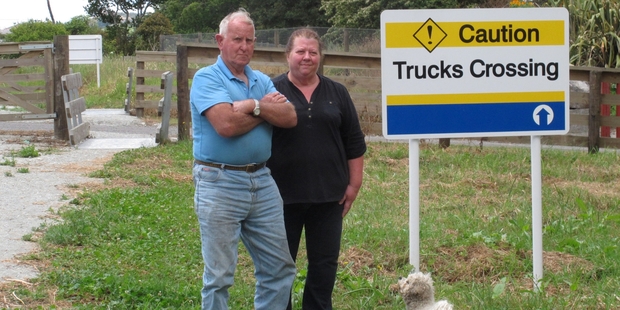 Kaikohe business owners reeling from repeated break-ins - as many as three in one week - are calling for the closure of a cycleway they say criminals use as an access and escape route.
Although most support the cycle trail concept, they say a short section through industrial land between Taheke Rd and Station Rd has proved a security nightmare. Rankin St businesses have been hard hit by thieves reportedly using the trail to access the rear of their premises, then as a getaway route where police cars can't follow. EJ Reed and Co manager Terri St Clair said the company's Rankin St quarry depot had been hit seven times in six months, including three break-ins in one week. In the most recent incident, thieves made off with a truck fitted with a $20,000 welder/generator and packed with engineering tools, oils and gas bottles.
"It's an absolute nightmare," she said. "I've cried over it, the guys get really angry."
The company had been forced to spend $20,000 on security cameras, put up gates and would soon have someone living on-site.
She supported the cycle trail, but wanted its route behind Rankin St to be closed and cyclists diverted down Kaikohe's main street instead.
Richard Penney of Kaikohe Panelbeaters, also on Rankin St, said locals dubbed the trail "the highway of crime". Kids knew police cars could not follow them and they could disappear into any number of properties.
Also regularly targeted is Te Kotahitanga e Mahi Kaha, a trust providing alternative education, job training and a gym. Facilities manager Rob Marsh said the trust had been broken into at least five times since the trail opened, including twice in one weekend. Items stolen included a mower, stereo, boxing gloves and heart monitor.
The Far North District Council would be prepared to consider closing a crime-ridden section of cycle trail if that was what the community wanted, a spokesman said.
The council was also willing to meet the Kaikohe Business Association to discuss cycleway concerns, he said.
Business Association chairman Steve Sangster welcomed the offer of a meeting. The group had been asking the council and community board for the past year to close the section of trail between Taheke Rd and Station Rd and divert cyclists.
"They should be encouraged to come into town where there are toilets and they can stop and shop and eat. Instead they go through an industrial wasteland with the worst possible view of the back of Kaikohe and come out behind a waste transfer station."
Once complete, Pou Herenga Tai/Twin Coast Cycle Trail will stretch from Horeke in South Hokianga to Opua in the Bay of Islands.