Worldwide uses are countless for speedy-to-assemble rural transport solution.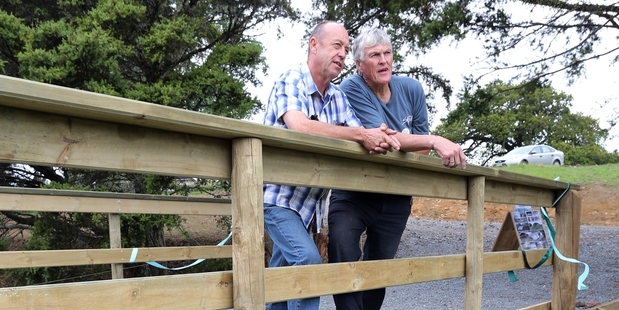 Two Whangarei men have produced a bridge they plan to carry them over financial pitfalls into profit, with jobs for others along the way.
The pair - Kelly Wright and Steve Swann - have overseas interest in their lightweight kitset bridge so they are keeping the patented design under wraps with the hope buyers will soon be using the new structures to cross creeks and streams around the world.
The bridges, built over concrete arches, are classified class 1 and can carry 7.5-tonne axle loadings.
They can be assembled on site and are seen as an answer to increasing pressure for farmers to keep cattle out of waterways and prevent stock causing environmental damage.
Lightweight components can be delivered by helicopter when bridges are needed in inaccessible locations.
Wright and Swann have set up Clearwater Crossings Ltd to make the bridges in 12 sizes with arches spanning 3.1m to 7.2m and of different widths..
The concrete spans only the water, with compacted metal and wooden sides on top of the arch lengthening the bridge.
As a result, a bridge with a 4.6m arch is 9.5m long when installed for about $26,500, and a 7.2m arch is 15m long and costs about $45,000 installed.
Clearwater installed the first of its bridges at John and Bev Manderson's property at Kauri recently.
Northland Regional Council officials and others associated with the new venture were on site to see how rapidly the structure was assembled and fitted into position with the absence of heavy equipment, usually associated with bridge building, resulting in little impact on the stream it spanned. Regional council familiarity with the Clearwater bridges is crucial as the company organises consents for bridges it installs.