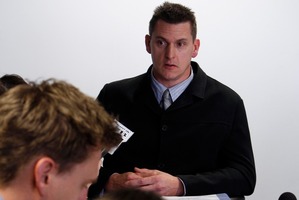 A 65-year-old man facing multiple charges of indecent assault and unlawful sexual connection entered not guilty pleas when he appeared before Judge Greg Davis in the Kaitaia District Court yesterday and was further remanded in custody for a review hearing in Kaitaia on February 4.
Counsel Chris Muston told the court his client, James Brian Sanders, denied all charges, and elected trial by jury.
One fresh charge was laid yesterday, taking the total to 25. All but two of them are of indecent assault, the remaining two alleging unlawful sexual connection.
Detective Mark Dalzell, from the Child Protection Unit in Kaitaia, said the fresh charge of indecent assault related to an alleged offence against a 14-year-old girl. Inquiries were continuing and more charges could be laid.
The Far North charges relate to seven females aged from under 12 years to 12-16.
Sanders, who did not apply for bail, was not employed as a teacher at the time of the alleged Far North offences.
The name of the school, and the programme Sanders was involved in at the time of the alleged offending, were further suppressed.