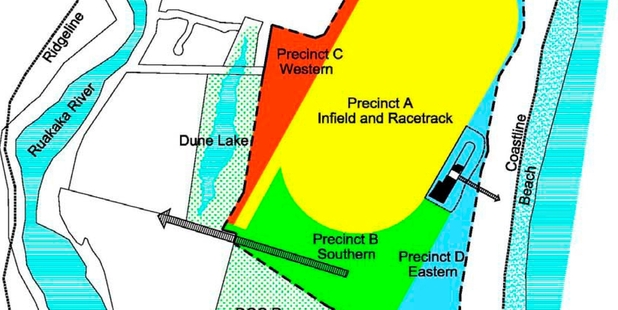 Whangarei Racing Club could face closure if it doesn't get consent to change the zoning of its land around the Ruakaka Race Track to develop and allow 350 homes to be built on the property, a hearings committee has heard.
The racing club has applied to Whangarei District Council for a private plan change to alter the zoning of the 56 hectares it owns at Ruakaka from Countryside Environment to Equine Environment, with the existing land parcel split into four parts, three of which would house up to 350 residential sites and commercial development, including a hotel. The fourth and largest parcel of 30ha would remain the race club's infield and track area. With the plan change the club could on-sell the proposal to a developer, the returns future-proofing the racing facility itself.
At the start of a three-day hearing on the application at the racecourse yesterday the trust board for Bream Bay hapu Patuharakeke asked independent commissioners Les Simmons and Alan Withy, and WDC-appointed commissioner John Williamson to adjourn the hearing as the outcome would adversely affect the hapu.
Lawyer for the trust Prue Kapua said Patuharakeke had a Treaty of Waitangi claim that covered the racecourse land and if it was then split up and sold for private homes the land would be irretrievable for Patuharakeke. Ms Kapua said if the matter wasn't adjourned a fall back position for the hapu would be that any consent granted is on the condition that the development could not happen until after the treaty claim was dealt with.
The former state-owned enterprises land is tagged Section 27B Memorial, a status applying to many sites around New Zealand that could potentially be returned or compensated for in Treaty settlements. The commissioners ruled to carry on with the hearing and racing club lawyer Wayne Peters said the club was not a developer, but a non-profit organisation which benefited the community on many levels.
"The purpose [of the plan change application] is to secure the future of the Whangarei Racing Club at Ruakaka," Mr Peters submitted.
"In the absence of taking the initiative as contemplated in this plan change, there is the very real prospect that the club will face closure if its current funding levels remain stagnant."