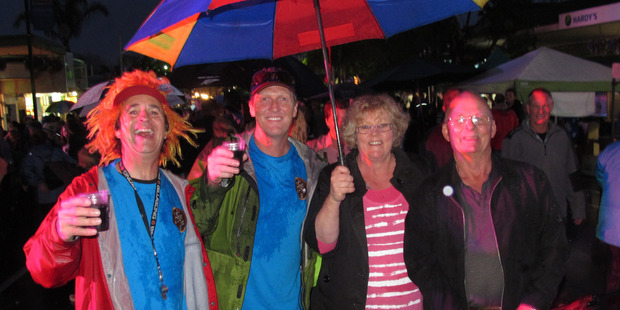 Fine weather forecast for Northland's biggest street party could draw a record-breaking crowd onto Kerikeri's main street on Saturday.
The party was founded five years ago to persuade thousands of out-of-town entrants in the Kerikeri Half Marathon to stay in town for an extra night.
Last year's knees-up was hit by heavy rain which reduced the turnout but did little to dampen party-goers' spirits. In previous years more than 4000 people have squeezed onto a closed-off section of Kerikeri Rd for an evening of dancing, socialising and imbibing.
Nine Northland wineries will be taking part, with an accent on pinot gris, and 24 food vendors will offer everything from Fijian fish curry and lamb kebabs to designer cup cakes.
Local bands Thelonious Punk, Rocksalad and Legacy will play on three stages while a roving magician will entertain the kids.
Kerikeri Rd will be closed to traffic between Homestead Rd and Fairway Drive from 4pm.
The party kicks off at 5pm and runs to 9pm. Entry is free. A bus departing Paihia's Maritime Building at 4.30pm and returning from Kerikeri at 9pm costs $10 each way for adults and $5 for children.
The party was founded five years ago by the Kerikeri Events Committee, a group of bed-and-breakfast owners and other business people, and is supported by the Kerikeri Business Association. For more information go to http://kerikeristreetparty.co.nz/.