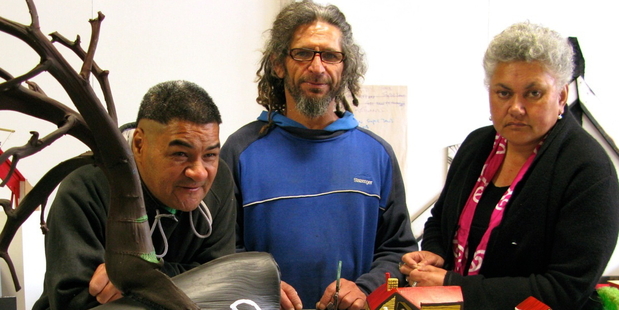 A mixture of relief and disappointment has greeted NorthTec's announcement of long-anticipated cuts to its applied arts courses in Northland.
The cuts are much as initially proposed earlier this year in Rawene and Whangarei but Kerikeri - which had faced complete closure of its highly regarded arts programme - will retain arts tuition after all, albeit at a lower level. The cuts, released to staff on Wednesday, include the one-year applied arts and photography certificates at the Raumanga campus and the applied arts certificate at Rawene. Kerikeri will lose its three-year bachelor's degree but gain a two-year diploma instead.
Fresh student intakes will alternate between Rawene and Kerikeri. A new diploma will start in Rawene in 2014 with graduation in 2015 and the next batch starting in 2016. In Kerikeri the first diploma intake will be in 2015.
Organisational development director David Harrop said NorthTec would honour its commitment to students who had already started multi-year courses by letting them finish at their current campuses.
Some Kerikeri students had feared having to travel to Whangarei to complete their degrees. Some electives would also be affected, Mr Harrop said. Rawene would become a hub for 3D (sculpture) and painting, Kerikeri would focus on printmaking and painting, and Whangarei would become a "centre of excellence" for photography, graphic design, 3D and drawing.
The plan makes no mention of glass casting, Kerikeri's other current specialist area.
Mr Harrop said the plan would see the number of full-time equivalent staff reduced by 2.5. NorthTec currently has 18 applied arts staff (11.3 FTEs) at the three locations. Staff had been offered voluntary redundancy, redeployment or retraining. Compulsory redundancies would be a last resort, he said. Reasons for the changes included lack of demand and the flow-on financial effects, employment outcomes and the capped number of places funded by the Government.
Former student Leona Kenworthy of Rawene was disappointed by the closure of the certificate course, which she said acted as a feeder for the "fantastic" two-year diploma. Many students did not have the confidence to jump straight into a diploma. Ms Kenworthy was frustrated because she had been waiting for three years for a Bachelor's course to start in Rawene, something she had been told was a strong possibility. That now appeared unlikely. Mr Harrop said such a degree at Rawene was not part of NorthTec's plans for the next three years.