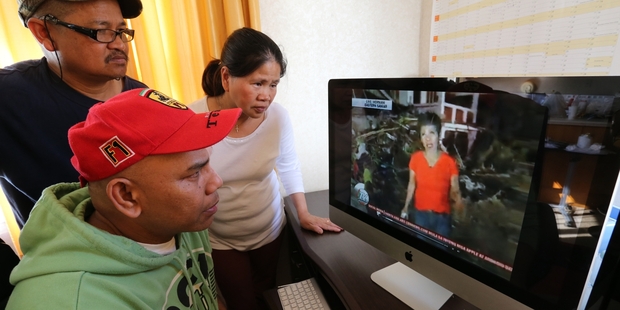 Northland's Filipino community has pleaded for public assistance to help raise enough money to assist millions affected by ferocious Typhoon Haiyan.
Whangarei baker Yong Boquia has organised a garage sale on November 23 of assorted donated items, with proceeds to be sent to needy families in Philippines.
The typhoon hit the eastern seaboard of the Philippines on Friday and quickly barrelled across its central islands, packing winds of 235km/h that gusted to 275km/h, and a storm surge of 6 metres.
Hardest hit was Leyte Island, where officials said there may be 10,000 dead in the provincial capital of Tacloban alone.
Mr Boquia, from the southernmost island of Mindanao, said the scale of damage this time around was unbelievable.
"It was one of the worst super typhoons to hit Philippines and a lot of people have lost everything. It will take a long time for them to recover.
"I got some information on where to donate on a Filipino TV channel but thought of rallying for more from the local community here so that we can send more funds across."
He said the key thing for those affected was survival because not only their homes but their place of work have been destroyed.
Mr Boquia said any help, no matter how small, would go a long way to alleviating the suffering of millions.
Another local Filipino, Neven Osmena of Whangarei, said it was easier to send money than goods as the latter took a long time to reach the island.
"There was an earthquake lately from which people are still recovering and now this typhoon. You can imagine the level of assistance people need out there," he said.
The garage sale will take place at 13 Apirana Ave, Regent and those wishing to donate items can drop them off at the address. Alternatively, contact Mr Boquia on 022488229 or on yoyong2001@yahoo.com.
Meanwhile, ChildFund New Zealand is asking kiwis to contribute to an emergency appeal to support the relief and recovery efforts in the Philippines. Donations can be made by calling 0800 223 111 or at www.childfund.org.nz.
NZ Red Cross, Unicef NZ, World Vision NZ, and Oxfam NZ are also accepting donations.