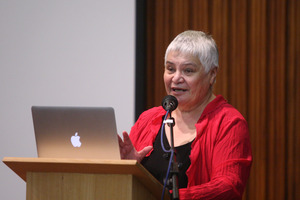 A housing lobby group wants the Government to treat Tai Tokerau as a special priority area for helping people into homes on multiple-owned Maori land.
A hui held by the Northland Housing Forum at Moerewa yesterday sent the message back via representatives of three Government departments that providing affordable housing on whanau and hapu-owned land was key to Te Tai Tokerau Maori building a better future.
Representatives from hapu throughout the region, Northland Housing Forum, social agencies, primary health organisations, Northland District Health Board, district councils, Te Puni Kokiri, Ministry of Business, Innovation and Employment and its Social Housing Unit were present, along with members of the public.
The core message was the need for easier access to social housing so people could live on ancestral land in healthy, affordable homes.
Speakers, including Heeni Hoterene and her partner Rueben Porter, who have already built houses on whanau land near Ahipara, outlined the available grants and processes to get whanau and hapu housing projects under way.
Also discussed was the Putea Maori funding - $13.8 million for Maori housing over four years, or $13.8 million a year for the whole of New Zealand, channelled through the Social Housing Unit.
The demand for Putea Maori set-up grants and the Kainga Whenua loan scheme for housing on multiple-owned land has been such that it is likely to be at the forefront of a new Maori Housing Strategy, the development of which is being overseen by Maori Party co-leader Tariana Turia, Ms Turia's private secretary Tom Kemp said.
Ms Hoterene called for a mandate to send the Government a reminder Tai Tokerau was a region already identified as having great need and should be given high priority.
The submission to the Maori Housing Strategy included a request that Putea Maori be increased to $10 million a year.
It also called for more regional input into Maori housing policy.
An example of a social housing scheme was outlined by Ricky Houghton, chief executive of Kaitaia-based development, He Korowai Trust. The trust bought 50 acres and has so far readied nine relocated houses on that land, with another nine planned.
A Whangarei Accessible Housing Trust member also talked about accessible whanau housing for disabled people.