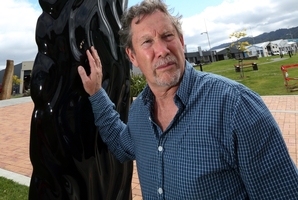 A special four-metre high carving on Whangarei's riverside Heritage Trail and Art Walk has been bowled over, devastating those who have been part of creating the public park.
The carving, one of two upright waka/whale-shaped statues with the heads of legendary Maori women Reitu and Reipae, was discovered on its side by a council staff member about 8.30am on Saturday.
Whangarei District Council staff were looking at security camera footage yesterday to try and identify the culprits and see exactly how the damage was caused.
The shiny black pieces of artwork by John Ioane stand sentinel on either side of an opening on to Hatea River, with luminous surfaces reflecting light and movement; symbolising the stars ancient navigators sailed by.
The council's group manager of district living Paul Dell said the carving would be reinstated as soon as possible and confirmed police had been notified of the damage.
Engineers had the carving and were looking to put it back as soon as possible.
Chris Carey, from the Culture Heritage Arts Resource Trust (Chart), said he was devastated to see the precious sculpture on the ground and had tried to contact the artist.
"It's sad people don't understand the context of these art works ... they are very special. They are telling a very, very important and sensitive story, special to this area," Mr Carey said.
He said the carving would be blessed when it was put back.