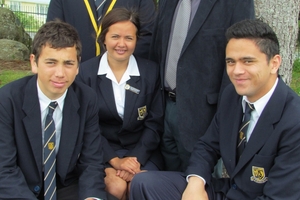 Four Bay of Islands College students have won scholarships worth more than $60,000 towards their university studies.
All are Maori and among a larger-than-usual number of graduates planning to attend tertiary institutes in 2014.
Head girl Rhiaan Smith (Ngati Hine/Ngati Kopaki) had to make a tough decision when she was accepted into two competitive undergraduate courses - the Health Science programme at Otago University and the Bachelor of Communications degree at Auckland University of Technology (AUT). The Kawakawa 17-year-old was offered scholarships to both universities.
Although passionate about both the arts and the sciences, Rhiaan's decision came down to her desire to pursue a career as a paediatrician. She has been awarded two scholarships at the University of Otago - the $10,000 Maori and Pacific Entrance Scholarship and the Tu Kahika Health Science Scholarship programme, which provides accommodation, financial assistance, academic support and career guidance.
Rhiaan acknowledged the support of her mother, her wider whanau, and "a few particular stellar teachers" for helping her follow her goals.
Kawakawa 17-year-old Bodene Davis (Ngai Tupoto/Te Popoto), who will be studying a Bachelor of Engineering at the University of Auckland, has received the highly-contested Chancellor's Award for Top Maori and Pacific Students.
The scholarship is worth around $40,000 for three years of study and is awarded only to top academic achievers.
Bodene said he was grateful to the teachers who wrote his references, Ros MacEachern and Jasmine Maunsell, and everyone else who had helped him through college.
Opahi 17-year-old Atereano Mateariki (Ngati Hine) received the McDonald's Te Taitokerau scholarship valued at $10,000 for study at AUT. Atereano will study for a Bachelor of Maori Development (Maori Media) with a view to a career in radio or teaching where he can utilise his fluency in te reo.
Darcey Rapana, 18, of Moerewa (Ngati Whatua), received the $5000 Northland Future Leaders' School Leaver Scholarship from the University of Waikato. It is awarded on the basis of leadership, community involvement, contribution to cultural and sporting activities, character, academic ability and commitment to succeed. Darcey will study towards a Bachelor of Arts (Maori Culture) and wants to be a secondary school teacher.
Principal John Paitai said Rhiaan, Bodene and Atereano had been good friends from an early age and had a lot in common. All three were brought up to be bilingual, had teachers in their families, attended Kawakawa Primary and then Bay of Islands College where they were part of the Te Kotahitanga programme in their junior years.
Darcey joined Bay of Islands College in 2012 after Moerewa School's senior unit was closed down. Mr Paitai said he immediately impressed staff with his positivity and focus on learning.
All four had been prefects and served the school and community in a variety of ways.
Bay of Islands College Year 13 graduation was held at the Copthorne Hotel, Waitangi, yesterday. Year 11 and 12 Senior Prizegiving takes place today.