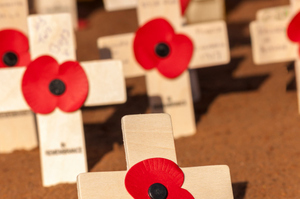 Russell RSA members will commemorate Armistice Day again on Monday, but this time much of the focus will be on three mysterious World War I medals.
The two service medals and Military Cross with two bars were found among other medals at the RSA, with nothing to indicate who had won them.
Both medals had the recipient's name scratched off.
So began an extraordinary effort by former RSA president Peter Roberts and his wife Barbara, who left no stone unturned to solve the mystery. They achieved that, to a degree, although one big question does remain.
Inquiries at the Imperial War Museum in London established that only a handful of World War I soldiers, none of them New Zealanders, had won the Military Cross with two bars. Forensic examination subsequently yielded the name Alfred Youdale, an Australian who was invalided home from Gallipoli in 1915 as a result of illness, believed to be yellow fever.
He had returned to Egypt, hoping to continue the fight against the Turks. While there he had learnt to fly in just two weeks and six hours and duly joined the Royal flying Corps (RFC) in Egypt, where a pilot's average life expectancy at that time was measured in minutes.
He was awarded the Military Cross and the two bars for three actions in 1917, the last being awarded shortly before he was shot down and killed on December 23 that year. Youdale never saw the medals, which were presented to his mother some time after the war.
After more research the Robertses decided to track down the family. They wrote to four families close to the Sydney suburb of Ashfield, where Alfred Youdale came from, and received a response from a great-nephew. The family had thought the medals were in the Imperial War Museum in London.
The most likely scenario was the medals had been pawned or stolen at some stage, but no one knew how they crossed the Tasman. Youdale and his family had no connection with New Zealand, let alone Russell.
The legal situation appears to be that the medals, given that they were never reported stolen, are the RSA's to own, but they have been gifted to the New Zealand Medals Collection Trust, which has undertaken to lend them to the Russell RSA for permanent display.
They will now play a major role in Monday's Armistice Day commemoration.
Four members of the Youdale family are expected to travel from Australia to see the medals' unveiling and blessing, and to accept a set of replicas. The Australian and British Governments are also expected to be represented, and the RNZAF.