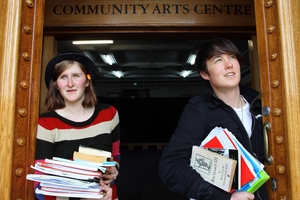 Tackling the biggest drama production of their lives as well as level 2 NCEA exams has been a huge learning curve for two Whangarei students.
Jack Robinson and Chelsea Farr, both 16, are among the 5949 Northland students sitting the NCEA examinations, which kicked off today.
They starred in Albert Black, the Northland Youth Theatre production, just two weeks before exams started, and had to juggle rehearsals with homework and study. "I found it quite exhausting," Chelsea said.
Spending hours rehearsing after school, weekends and during school holidays meant sacrifices had to be made.
"Any extra time I had I just had to do homework," she said.
Jack, who is at Whangarei Boys' High School, has his eyes set on achieving level 2 with an excellence endorsement so he can skip Year 13 and head straight to university.
In January next year he is planning to head to Italy for a six-month exchange, after which he intends starting a university degree.
"I took the opportunity to earn credits throughout the year, and got all of those with excellence," he said.
Jack had always wanted to be in Northland Youth Theatre and didn't let his high academic standards get in the way.
Chelsea, who is at Whangarei Girls' High School, has her first exam level 2 English on Tuesday, and said she felt most confident with her exam for level 2 drama.
"I think if you've listened to your teachers, know your stuff and done revision you'll be fine," she said.
The biggest exam is level 1 English, with 1886 Northland students sitting the exam on Monday.
Four students in Northland have to wait until the very last day of exams, December 3, to sit the final exam, Scholarship Drama.
Have you an exam story you'd like to tell us? Email us at reporters@northernadvocate.co.nz