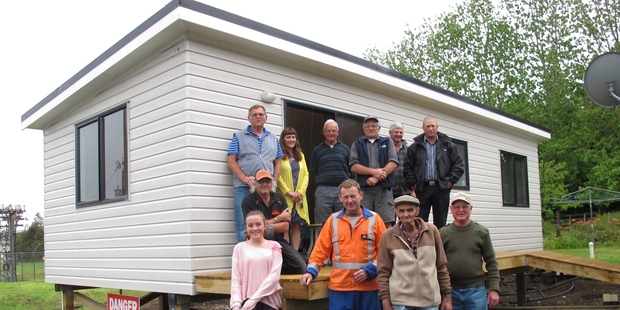 A pensioner who could only watch helplessly as his home of 25 years burned down has moved into a new house with help from volunteers and Bay of Islands businesses.
Don Speake was playing bowls at Waipapa Hall on June 3 when his home across the road caught fire. Firefighters saved his shed but could not save his home, leaving him with little more than the clothes he was wearing. The cause was traced to an electrical fault.
Mr Speake, who has also battled serious health problems in recent years, was insured but the payout was not enough to replace his home or possessions.
Bowling club friends stepped in to find the 72-year-old a place to stay, clothing and furniture. Mr Speake managed to buy a former construction firm's office with his insurance, and a band of volunteers set about turning it into a home. He moved in late last week and thanked his helpers with a barbecue on Tuesday. Mr Speake described the community's effort as "bloody incredible".
"I expected a few people might help out, but nothing like this."
Waipapa man Mike Fleet enlisted the help of an electrician, a digger driver, a plumber, builders, labourers and "anybody else who was prepared to come along and assist". They spent weekends building a deck, connecting the power, installing the wiring and plumbing and a myriad other jobs.
Bay of Islands businesses came to the party with a building supplies firm donating $2000 worth of timber. A plumbing company donated spouting and guttering and an electrical firm gifted the wiring and a meter box. A draughtsman drew up the plans for free, the Lions took care of the post-fire clean-up and the council smoothed the permit process, Mr Fleet said.
"We asked for a little and got a lot," Mr Fleet said.
"It's bloody magic to see him in his own place again."
Mr Fleet said he had known Mr Speake since he moved to Waipapa 25 years ago and could see he needed help after the fire.
''If this happened to me, I'd like somebody to do the same,'' he said.