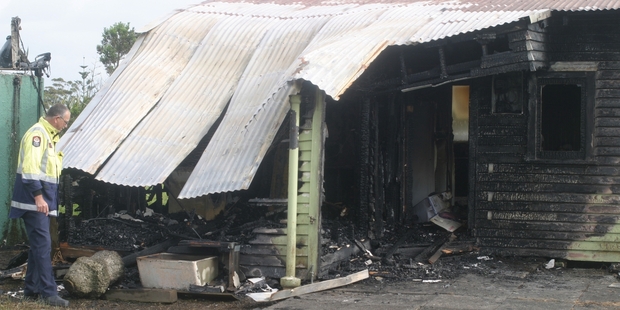 The Kaitaia Fire Brigade was called to another house fire at Kareponia, east of Awanui, before 1am on Sunday next door to the house damaged by a suspected arsonist seven days earlier.
On that occasion neighbours had the fire well under control by the time the first appliance arrived from Kaitaia, restricting damage to the front door area, but this time it was a different story.
The fire, which had clearly been lit at the back of the property, out of sight of traffic on State Highway 10 and neighbours, gutted the rear of the small house and left the remainder with severe smoke damage.
Kaitaia's chief fire officer, Colin Kitchen, said the crews from Kaitaia and Ahipara did well to extinguish the blaze before it destroyed the house, but there had been no chance of saving it from extensive damage. An appliance arrived from Mangonui but wasn't needed.
The house was believed to be unoccupied. The power had been turned off, ruling out an electrical cause.
Fire authorities and the police had no doubt that the fire had been deliberately lit, although the motive was not clear. Anyone with information that might help the inquiry should contact Detective Garton at the Kaitaia police station on (09) 408 6500, or Crimestoppers, anonymously, on 0800 555-111.