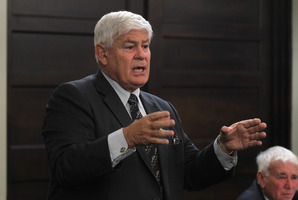 The possible future shape of local government in Northland should be released by the Local Government Commission in the Bay of Islands on Tuesday.
The commission will announce its decisions on local government reorganisation in the Northland region at a media conference hosted by Local Government Commission chairman Basil Morrison. He will be supported by fellow Commissioners Anne Carter and Grant Kirby and chief executive officer Donald Riezebos.
The decisions follow consideration of the reorganisation application lodged by Far North District Council in December. The FNDC applied to form a unitary authority taking over the functions of the current district and regional councils.
More than 40 alternative applications were made following the original application, including for two unitary authorities - one based on the FNDC boundaries and the other including the Whangarei and Kaipara Districts - and one from the Northland Regional Council for one unitary authority covering the whole of the region.
The commission made visits to Northland to consult interested and affected groups. Commissioners also held public meetings in 10 Northland towns to answer questions and discuss the process.
The commission's options include the status quo, two unitary authorities based on the current Far North and Whangarei/Kaipara boundaries (as favoured by the Far North and Whangarei district councils) or a single unitary authority covering all of Northland.
Northland Regional Council wants a single authority but with seven genuinely empowered local boards. That, however, would require a law change. If the commission opts for the status quo, the new mayors and councillors will serve a normal three-year term.
Once the preferred option is released the public then has until February 14 to make submissions. If 10 per cent of one of the affected councils sign a petition a referendum will be held on the future structure.
Guidelines and further background to the reorganisation process can be found at the Local Government Commission website: www.lgc.govt.nz