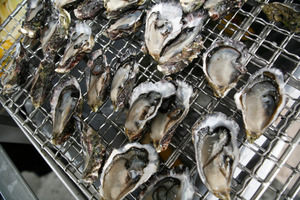 Three members of the same Whangarei family illegally sold oysters door-to-door to raise money to help pay for a tangi and a relative's headstone, a court has heard.
Maraea Taueki, 43, solo parent, Maria Shortland, 49, solo parent, and Arthur Taueki, 54, unemployed, appeared in Whangarei District Court this week for sentencing after pleading guilty to a joint charge of possessing oysters for sale from an unauthorised source, in contravention of the Fisheries Act.
They were each fined $450, ordered to pay $130 each in court costs and the Toyota Hi Ace van they used to sell the oysters from was forfeited to the Crown.
Defence lawyer Shaun Russell said losing the van would cause undue hardship as it was needed to transport a child who had breathing difficulties and his vital breathing equipment. The family is now in discussions with Ministry of Primary Industry officials to try to prevent the van being sold.
Ministry prosecutor Paddy Wood said the offence carried a maximum penalty of $250,000 fine and while this was at the lower end of offending it struck at the heart of the purposes of the Fisheries Act to protect fishery stocks.
Mr Russell told sentencing Judge Keith de Ridder this was the first offending by the trio and it was genuine naivety rather than deliberate offending.
"And the penalty of them not having that vehicle is going to be tremendous for them. They are all beneficiaries and don't have much money," Mr Russell said.
The summary of facts said the trio along with some teenage children, went door-to-door around Kamo and Tikipunga in the van selling pottles of oysters for $5 to $10 on July 14-16 this year. They sold about $220 worth.
A member of the public rang fisheries officers and the trio were followed and arrested. In explanation Shortland said the oysters had been obtained by family members from the Opua Marina.
She said the oysters had been gathered for a tangi at Mt Mangonui and to raise money for her brother's unveiling.
Maraea Taueki admitted she had gone out selling oysters with her son and daughter selling them also under her direction. She also said they were selling oysters to raise money for a relative's headstone.