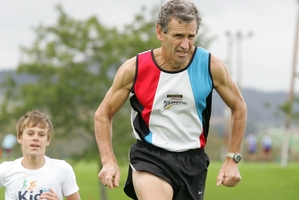 Whangarei runners have signed off their season with the Athletics Whangarei harrier prizegiving, with Antoinette Smith jogging away with one of the top awards.
Smith picked up the Hibbert Family Trophy which is awarded to the person, competitive or non-competitive, who has put in the most work for the club.
Also coming away with an award at last Thursday's award ceremony at the ASB Sports Arena was Jan Miller.
Miller won the Colin Thorne Marathon Cup for the best marathon effort throughout the year.
Taking out the most improved senior athlete title was Polly Barach, while Tayla Smith claimed the most improved junior athlete tag.
Claiming the King of Parahaki Trophy, for the fastest time to the top, was Mike Gowing. Christine Fraser-Kitchen was named the Queen Of Parahaki.
Val Babe took out the Thelma Harris Trophy for the best overall helper from a non-competitive athlete.
Taking the title of the most helpful junior club member, and winning the Ian Babe Cup, was Rachyl Edge.
Athletics Whangarei
Harrier Prizegiving:
Hibbert Family Trophy: Antoinette Smith.
Gary Little Trophy: Polly Barach.
Colin Thorne Marathon Cup: Jan Miller.
Thelma Harris Trophy: Val Babe.
Ian Babe Cup: Rachyl Edge.
Certificate: Tayla Smith.
King of Parahaki Trophy: Mike Gowing.
Junior King of Parahaki: Rhys Shadbolt.
Queen Of Parahaki: Christine Fraser-Kitchen.
Bennet Handicap Series: Women: Winner on points over 4 events, Gillian Michel.
Bennett Handicap Series: Men: Mark Anderson and Max Smith.
Bennet Handicap Series: Walkers: Sheelagh Prosser.
Bennet Handicap Series: Boys Under 11: Niall Prosser.
Bennett Handicap Series: Boys Under 15: Callum Anderson.
Bennett Handicap Series: Girls Under 11: Kyah Young.