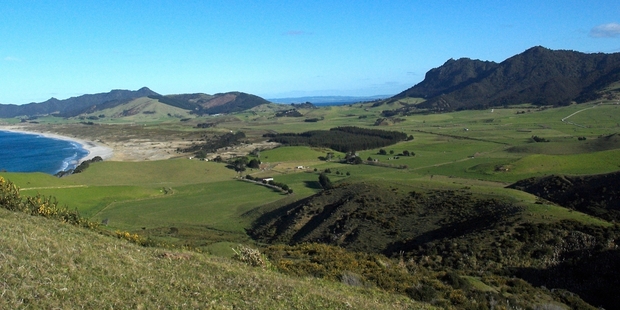 A 20sq km block at Kauri Mountain near Whangarei Heads is the latest area in Northland to fall under the blanket of a minerals exploration permit.
New Zealand Petroleum and Minerals (NZPM) has granted an exploration permit on 2026ha from the northern end of Ocean Beach to Awahoa Bay (south of Taiharuru Bay, or McGregors Bay).
The grab-bag permit issued to Hauraki Gold Ltd on October 8 covers minerals including gold, lead, copper, silver, tungsten, nickel, ironsand, iron, aluminium, zinc, magnesium, and tin.
The list also includes the rare, hard, corrosion resistant metal tantalum, several rare earths used in cosmetics and pharmaceuticals, and other manufacturing.
Zac Smith, whose waterfront land along the Kauri Mountain end of Ocean Beach is completely swallowed in the permit, first read about it on the internet. Mr Smith said he is not happy about the process which had excluded landowners.
"They've never been near me, no letter, no permission, and I can't do anything about it legally," he said.
Some other local landowners were unaware of the permit's existence until contacted by the Advocate.
Murray Jagger knew nothing about the latest development but said talk of minerals exploration had been floating around for "many, many years". Various forms of mining had taken place in the distant past with local sites still named accordingly, such as Copper Mine, he said.
Mr Jagger said he was not overly concerned at the idea of low impact exploration but would like more information on the plans.
New Whangarei District councillor and chairman of Bream Head Conservation Trust, Greg Innes had also known nothing about the permit. Mr Innes said the land in question fell outside the Bream Head trust's area but was within the Whangarei Heads Landcare Forum's scope.
New Zealand registered Hauraki Gold was set up in 2009. One director, David Cole, who lives in Colorado, USA, is also a director and the chief executive of Canadian trading company Eurasian Minerals.
Hauraki Gold is a totally owned subsidiary of EMX New Zealand (BVI) Inc.