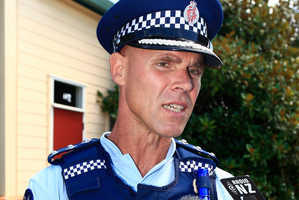 Northland's road toll stands at 19, already one more than last year, after a fatal stock truck crash near Kaikohe.
Inspector Cornell Kluessien of the police northern communications centre said the stock truck loaded with cattle collided with a tree at the intersection of Picadilly Rd and Mataraua Rd about 6:40pm yesterday. The male driver died at the scene.
It was the fourth death on Northland's roads in three days and follows the death of a 20-year-old motorcyclist who collided with a vehicle head-on while doing a wheel stand.
Sergeant John Fagan released the name of the motorcyclist as Kahn Howes of Waiotira, who died on Neville Rd, Waiotira, about 10am on Sunday.
Police say he had been riding on the road "pulling wheelies" before crashing on a blind corner into an oncoming car, which was being driven by the wife of his boss. He died at the scene.
"This is pretty tragic and a totally avoidable death," Mr Fagan said.
On Saturday, Gaylene Grant, 51, from Puhoi, and driver of a hatchback, Roderick Leonard, 54, from Hikurangi, died after two vehicles struck head on, about 2pm at the intersection of State Highway 1 and Richards Rd, just north of Whangarei.
Mrs Grant's husband was driving a vehicle towing a caravan in front of his wife, when Mr Leonard smashed through the caravan and hit his wife's car.
In another crash on Sunday, an 85-year-old woman was seriously injured and flown to Auckland Hospital, where she remained in a stable but critical condition yesterday.
The woman's vehicle was the only one involved in the crash near the corner of Bald Rock Rd and SH1. The road was blocked and traffic diverted through Mangawhai, about 3pm.
Only three hours later, a 16-year-old girl was taken to hospital with spinal injuries after falling from the back of a vehicle on the beach at Ahipara.
Mr Fagan said the vehicle was being driven by the girl's father, who swerved to miss a rock on the beach near Mokorau Stream, causing the girl to fall from the 4WD vehicle.
"These accidents have elements of alcohol, speed, high-risk driving and non-wearing of appropriate safety equipment," Mr Fagan said.
It was concerning there were so many crashes, given that November and December were traditionally black months on the roads, he said.