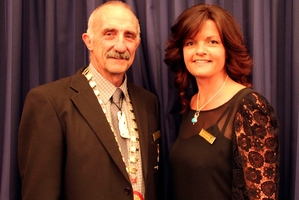 Far North Mayor John Carter says his chosen deputy Tania McInnes has the skills and experience needed for a leadership role at the council, despite being a first-time councillor.
Mr Carter announced his decision at the Far North District Council's inaugural meeting last Thursday.
Under a new law which came into effect just last month, mayors now have the power to appoint their deputies rather than having to let councillors take a vote. The mayor can also appoint the chairs of any council committees.
Mr Carter said Cr McInnes' experience included instigating and initially leading Focus Paihia, a community trust which has transformed the Bay of Islands town; working as former Mayor Yvonne Sharp's executive assistant; setting up the Northland Regional Cadetship Scheme; managing conferences and events; and undertaking a feasibility study for the Twin Coast Pou Herenga Tai Cycle Trail. Most recently she led the development of the 2013-16 interim Whangarei Visitor Plan, he said.
Mr Carter said Cr McInnes was a "highly motivated change agent with an impressive record" who could help the business sector and communities work together towards common goals such as job growth.
Cr McInnes, who lives in Opua, said she was honoured to be appointed Deputy Mayor.
"We have huge potential here in the Far North and we must unite and work together to achieve prosperity for all," she said.
Mr Carter also announced the council would continue to have an Audit and Finance Committee which he would chair. Previous deputy mayors still on the council are Ann Court and Sally Macauley.