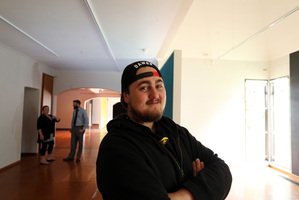 A trust has been granted $2.08 million to provide a space in Whangarei for young people to call their own.
The ASB Community Trust has pledged $2,079,503 to the Whangarei Youth Space Trust over five years through the Catalysts for Change programme. The programme identifies not-for-profit organisations with expertise around particular issues and the funding has been welcomed by the people behind the youth space concept.
Whangarei Youth Space Trust trustee Ryan Donaldson, 20, said the funding was incredibly exciting, and a pay-off for a year of planning and applying for financial support.
He said the space would offer young people in Whangarei recreational, health and leadership services, and would be based at the former Whangarei Art Museum in Cafler Park.
"It shows that young people can have their voices heard. We are giving them their own space," Mr Donaldson said.
Walking through the old art gallery, which will now be fully realised as the Youth Space he and others have been imagining, he said he could finally see it taking shape.
"I've seen blueprints and now it's actually going to happen."
Project manager Ian Smedley said at every step of the journey young people had been fully involved.
"That is our core underlining principle," he said.
ASB Community Trust chief executive Jennifer Gill said the aim of supporting the Whangarei Youth Space Trust was to see "greater social impact from their initiative".
The funding made special mention of the youth governance being essential to the Youth Space.
Half the trustees will be aged between 18-25.
The funds will be put towards getting Youth Space established and furnished.
Mr Smedley said it was now up to young people contributing to the Youth Space Youth Group to tell the trust what they wanted to see.
A cafe, computers, Wi-fi, a stage, plenty of beanbags and seats, a private consultation room for a nurse and a counsellor, a meeting room and a table tennis table are all on the list for the two-storey building.
He hopes to see the space fully furnished and ready to be launched in March.
The Youth Space will offer young people aged 12-24 leadership, health services, support services, career and skill development, as well as social activities.