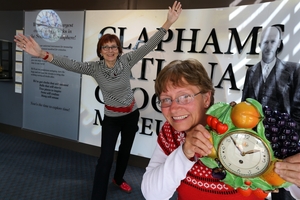 Tourists keen to check out unusual attractions in New Zealand should head straight to Whangarei's Claphams Clock Museum, an influential UK travel website says.
A blog titled "Five Unusual Attractions in New Zealand" on the Flight Centre UK website has listed the clock museum at Whangarei's Town Basin and the point where the Tasman Sea and Pacific Ocean meet at Cape Reinga as two of the most unusual attractions in the country.
The blog was penned by someone called Emma, a TEFL (Teaching English as a Foreign Language) teacher-in-training and blogger at Gohemian Travellers and The Huffington Post.
She wrote: "Yup I had to check out Clapham's [sic] Clock Museum when I was in Whangarei, it just sounded too kooky! The museum is named after the founder of the collection, Archie Clapham, a Yorkshire lad who moved to NZ in 1903 and brought his crazy collection of clocks with him.
"He managed to accumulate a collection of 400 clocks and music boxes. I cannot believe he fitted all these clocks in his living room! He even opened up his home for viewings before moving them here," the blogger said.
(The clock collection was actually held in what became the art museum building in Cafler Park.)
New Zealand's most northerly point also made the list.
"From the view of the lighthouse at Cape Reinga you can see where the Tasman Sea and Pacific Ocean meet. "Watch as the two rival waters clash together in choppy waves and make sure you look out for the contrasting colours of the seas ... I've never seen anything quite like it."
Silke Magens of Claphams said she was excited to hear the museum had been included in the list. She said a lot of visitors had come on the recommendation of international travel guides and websites. She puts the museum's "unusual" factor down to the variety of clocks on show.
"We have serious clocks, funny clocks and scientific clocks. If you are into the technical, it is a mecca for technicians."
Ms Magens said the whole team at the museum helped make the experience special for every visitor.
Team member Jenny de Weyer said she couldn't pick a most "unusual" clock in the museum.
'Everyone has their favourite," she said.
Ms Magens added that it was interesting to be listed on the UK website, given Archibald Clapham was English.
Check out the post at www.flightcentre.co.uk/uk-travel-blog/5-unusual-attractions-in-new-zealand/