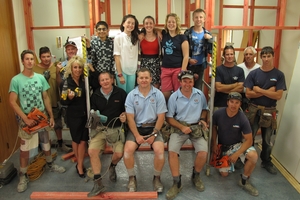 A group of Northland teenagers have joined forces with Bay of Islands builders working without charge to renovate a resthome for the elderly.
When the trust that runs Kerikeri Retirement Village didn't have the money to revamp its social centre, the trust asked the enterprising students of Springbank School for help.
A group of five Year 9 students set about raising money - just under $11,000 so far - and enlisting the help of builders and suppliers.
The Certified Builders Association got on board with 10 members working on the revamp without charge, firms donated or sold at cost everything from paint and shelving to a complete kitchen, a draughtsman drew up the plans free of charge, a building supplies firm provided materials and a mentor, and parents got to work sewing curtains.
The project includes new paint and curtains for the indoor bowls room, cleaning up and replanting an outdoor courtyard, and building storage cupboards for physiotherapy equipment and files. A storage area is being turned into a library, which means the existing library/meeting room can be turned into a mini conference centre.
The new facility, complete with new kitchen and toilets, can then be hired out to raise money for the not-for-profit trust.
Group member Sara Finch, 13, said a lot of planning and discussion went into the project, as well as a huge amount of communicating with team members and businesses.
Ally Standing, 14, said the group had raised $10,875 so far. More than $6000 had come from an "auction of promises" and $3700 from a garage sale Ally said the project had taught her how to approach businesses and write formal emails.
The group, whose other members include Dhanan Patel, Rebecca Gmuer Hornell and Matt Foster, hope to enter the project in next year's BP Community Enterprise Awards.