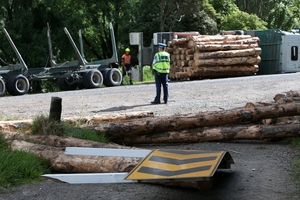 A truck driver was pulled from his cab by two other truckies and flown to hospital after the fully laden logging truck he was in rolled on a corner.
Police on the scene said it appeared the trailer had tipped over on a left-hand corner, which had a recommended speed of 55km/h, and caused the truck unit to flip on its side on Mangakahia Rd, 40km west of Whangarei, about 7.20am yesterday. Logs from the trailer spilled across the road while those on the truck unit remained in place. There were no other vehicles involved in the crash.
The driver, thought to be in his late 50s, was in a serious condition and remained in Whangarei Hospital overnight. Heavy machinery was used to move the logs and a crane was used to right the truck unit leaving the road fully open just after midday. A nearby farmer was the first on the scene after hearing a loud bang echo through the valley. "I knew straight away what it was and I rushed down there and parked the car to stop traffic," she said.
The cab had landed on the driver's side and it was going to be difficult to get him out. However, two truck drivers stopped and climbed into the cab and managed to get the injured man out through a hatch in the cab roof. There was no cellphone coverage so the farmer ran back to her house and called for an ambulance before returning to the scene with a blanket for the driver.
While the driver was treated in the ambulance the Northland Electricity rescue helicopter landed in a nearby paddock. He was transferred and work on clearing the road began.
The crash meant students from Pakotai School had to cancel their day trip to Whangarei. Principal Lana Wolfgram said the 30 pupils were disappointed on hearing the news but said they were getting used to it as the trip had been postponed from earlier in the year when flood waters covered the road and prevented them from getting into town.
"I guess it's one of the perils of living in the country. We were heading to the library, then Town Basin for morning tea and then a walk over the new harbour bridge. It's all part of learning about our place and environment. We will reschedule and we will get there eventually."