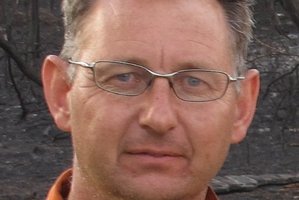 A fire ban is in place across the Far North as fire danger soars to levels usually encountered in mid-summer.
The restricted fire season - which means outdoor fires are allowed only with a permit - came into force at noon on Monday following a spate of serious scrub and grass blazes, many of which were started by rubbish fires spreading into dry vegetation.
It is believed to be the earliest ever start to a restricted fire season in the Far North. Northern principal rural fire officer Myles Taylor said it was "just too dangerous" to allow fires in the open.
"We're not going to lose any more lives," he said, referring to the deaths of pilot "Prickles" de Ridder and ranger William Macrae in a blaze on the Karikari Peninsula in 2011.
The decision to require permits was made after a series of fires, continued dry weather and fire risk indices - which measure dryness of vegetation and the speed at which flames spread - reaching trigger points.
The restrictions would remain in force until further notice. The exceptions were gas barbecues, hangi and umu fires.
Anyone who needed to light a fire in the open could apply for an online permit at havingafire.org.nz while those without internet access could call the Far North District Council to lodge the application on their behalf.
The Rural Fire Authority would endeavour to get the site inspected within 72 hours, a requirement before a fire permit could be issued.
Mr Taylor said the authority would continue the hard line started last year in which every person who lit a fire without a permit would be billed for the costs of putting it out, even if it was not out of control.
Firefighting costs generally start at about $500 and run into tens of thousands of dollars if helicopters are required.
If the fire danger keeps increasing, a prohibited fire season or total fire ban may be imposed. If that happens no more fire permits will be issued.
Volunteer firefighters were kept busy around the Far North over the weekend with nine fires, one of which damaged a house near Awanui and was thought to be deliberately lit, as well as three crashes and several medical emergencies.
The most serious scrub fires so far this season were at Hihi, where a house was damaged and a woman suffered minor burns, and at Mitimiti, where a rubbish fire ignited 10ha of scrub.
There are as yet no restrictions in the Whangarei or Kaipara districts but people are warned not to light fires in windy conditions and to make sure fires are completely extinguished.
Go to havingafire.org.nz for permits and the latest fire ban information.