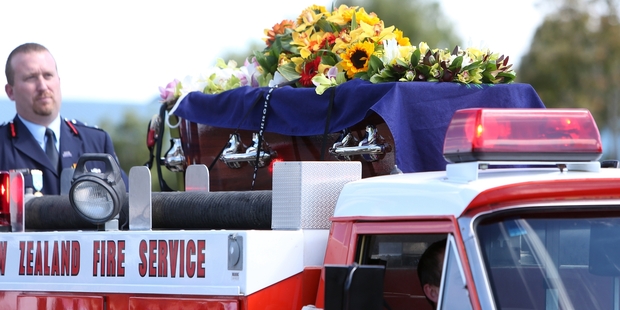 Bruce Trigg: born March 14, 1946, at Whangarei Hospital, has died.
A well-known businessman and firefighter, he spent the first four years of his life in Maungatapere before his family moved to Kaeo.
Their farm house was burnt to the ground when Bruce and other neighbours decided to get electricity in to their area from Matauri Bay. Arson by a neighbour who did not want to pay up for the power was suspected.
A few years later when Bruce's father died, the family moved to Whangarei and then to Taheke in the Hokianga where his mother Mary and her sister Betty bought the Taheke shop.
Bruce said about Taheke: "School in Taheke was about 150 pupils, predominantly Maori. They were very very good people, awesome. To me it was an excellent school to go to. We never had any trouble. It was a lot of fun, a big playground, a horse paddock. They all arrived on their horses, some still lived in nikau whare, a quarter of them down Horeke Rd. We did a lot of singing in Maori."
At 14 Bruce went to Northland College in Kaikohe. He joined the Fire Service in 1964 and became a live-on station hand, with seven living in quarters upstairs - they slid down poles when the sirens went.
In 1966 Bruce met Lyn Tyler-Whiteman who became his wife. She was a nurse, they met on a blind date and Bruce said "I've been blind ever since".
He became a paid firefighter and the couple lived on station where their first two sons were born. They had four sons, Darrell, Steve, Anthony and Gary.
In 1974 Bruce and Lyn bought a rubbish bin business which they developed as Trigg Bins. They painted the bins bright colours and many Whangarei locals still call them Trigg Bins.
About 1990 Bruce bought the Kauri Arms Tavern in Kaitaia and Colin Kitchen ran it for him. Soon afterwards he bought the Onerahi Hotel.
"There was only the liquor wholesale and one bar, all the accommodation and kitchen had closed to a standstill, so it was a matter of working out how to make it stack up again," he said.
Lyn developed a boutique cut-orchid business selling cymbidium orchids and Bruce designed a purpose-built shed for them, and on-sold the design to other growers.
Bruce loved his outdoor life; hunting, shooting and fishing. He loved his wife and family and the NZ Fire Service in which he held many offices.
His funeral was last Thursday at the Excellere College Hall, Kamo, followed by an NZFS Guard of Honour.
Bruce's body was taken to the Kamo Fire Station on an old Fire Station Jeep.