Maryanne Hooson couldn't walk or talk after a stroke. Next week she runs the New York marathon.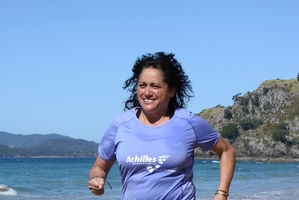 Even a hurricane powerful enough to shut down New York City is no match for the determination of Northland woman Maryanne Hooson.
Eight years ago she lost the ability to walk and talk following a stroke doctors did not expect her to survive.
But thanks to years of therapy, friends, family and her own resolve she has regained speech and mobility, and even returned to her old sport of long-distance running.
Last November Mrs Hooson was to have capped off her long road to recovery by running the New York City Marathon, only to arrive just as Hurricane Sandy was tearing a path down the USA's east coast. The city's streets and subway were flooded, 48 New Yorkers lost their lives, and the marathon was cancelled.
This Wednesday, the Russell 53-year-old, accompanied by a sister and a supporter, is flying back to the US to try again.
"I've seen heaps of people who've had strokes and who can't walk or talk.
I'm running for them," she said.
Mrs Hooson suffered the stroke in 2005 when she flipped her waka ama and hit her neck on the outrigger. She had a raging headache but it wasn't obvious what was wrong until she collapsed a few days later and it transpired an artery in her neck had burst and bled into her brain.
As she lay in Whangarei Hospital she could hear the doctor tell her family she might not survive the night. The grim prognosis enraged her but she could not speak or even move.
The mother of two survived the night and slowly - with help from friends, whanau, the Russell community and therapists - learned to speak again. At first the only word she could say, "as clear as a bell", was the F-word. Even now she trips over words when tiredness sets in.
"I get my words muddled up and arse-about-face. The most frustrating thing is I know exactly what I want to say but it doesn't come out."
She still can't use her right hand but more than anything Mrs Hooson, who ran marathons before her stroke, was determined to walk again.
In 2006 she completed a 6km walk, part of the Te Houtaewa Challenge, using a walker. A few years later she took 12 hours to complete the 62km Te Houtaewa ultra-marathon on Ninety Mile Beach; when she ran the Auckland marathon marshalls told her to pull out because she was taking too long but she refused.
"I didn't like not walking so I had to re-learn it. When I get tired I'm forever tripping. I have to run with my head down, so I can see if I'm lifting my leg."
The idea of competing in New York came during the Kerikeri Half Marathon. As she hobbled past another disabled runner he said: "Why don't you go to New York and fly the flag for all us broken-arses?"
Last year she travelled to the US as part of Team Achilles, an international club helping disabled athletes compete in mainstream events, and heard about the hurricane while still in Sydney. Her bags were pulled off the plane but she re-booked when she was told the marathon was still on.
When she arrived in New York one runway was still covered in water and debris. There was no power, public transport or traffic lights. A 3km taxi ride through the chaos to her motel took two hours.
When the marathon was cancelled the next morning she was bitterly disappointed, especially after so many people had raised money to get her there. Cancelling, however, was the right thing to do. The route would have taken runners though places where people had died days earlier, she said. When Achilles contacted her to see if she wanted to try again this year, the decision was a "no brainer".
Mrs Hooson is convinced her recovery has been helped by running marathons before her stroke.
"With marathon running you have to be determined to carry on and not let the pain get inside you. If I want to do something, I strive to do it."
In 2011 Mrs Hooson was named Te Taitokerau Maori Sportsperson of the Year with a Disability. She is slowly returning to her old job as a vocational guidance counsellor and volunteers for the Russell Fire Brigade and at the town's police station.