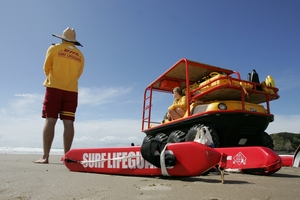 A grant from the Whangarei District Council to extend the lifeguarding season has prevented drownings, Whangarei Heads Surf Life Saving Club chairman Rod Boswell says.
The council has given $16,000 to keep paid lifeguards on Whangarei Heads and Ruakaka beaches for two extra weeks, and at Waipu Cover for one extra weekend.
Mr Boswell warmly welcomed the donation. "We provide an extensive and professional service and what they've done is superb. If we don't patrol those extra weekends what will happen is someone will drown," he said.
Volunteer lifeguards will be on patrol on Northland beaches from this weekend until Easter. Paid lifeguards will start on December 23.
Mr Boswell has 35 years experience with Surf Life Saving New Zealand and is a founding member of the Whangarei Heads Surf Life Saving Club.
Patrolling beaches was essential to keeping people safe, he said.
However, trained lifeguards benefited the community on and off the beach.
"I'm aware of numerous incidents of people using skills learned in surf club off the beach in public. I've had to do first aid in town myself," Mr Boswell said.
Water safety tips
*Find a beach that is patrolled.
*Listen to the advice of lifeguards.
*Always keep an eye on children in the water.
*Get a friend to swim with you - never swim or surf alone.
*Stay between the flags.
*Watch out for that rip. Rips are calm patches of water that can sometimes have waves breaking to the side. Rippled, discoloured or foamy water with debris can also mean a rip is present.