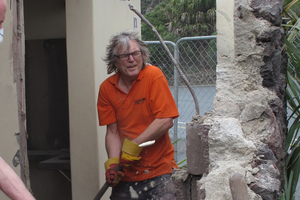 A public meeting in Kawakawa will discuss a proposal to close down the town's indoor pool.
The meeting will be in the Bay of Islands College hall on November 6 at 6.30pm. Organiser Richard Duley, the business association chairman, said it had been called to express concern over a report that proposed building a Kerikeri indoor pool and closing Kawakawa's.
The report, which has yet to be publicly debated by councillors, was commissioned by the Far North District Council and Sport New Zealand to map out an aquatic strategy for Northland and examine the feasibility of new pools in Kerikeri, Kaikohe and Kaitaia.
The other aim of the November 6 meeting was to outline the community's plans to get Kawakawa's pool up to scratch, Mr Duley said. The council had covered running costs but maintenance had been neglected.
Australian urban redevelopment guru David Engwicht, who inspired the transformation of Paihia's public spaces, was keen to get involved in rejuvenating the pool.
He would be in town on November 23 to discuss ideas for the facility.
Mr Duley said there was widespread unhappiness with the report: "I don't see how anyone who read it would think it was a fair appraisal."
The report's writers had spent just an hour at Kawakawa and decided the pool roof was in a bad way without taking a close look, he said. He believed all it needed was paint and new skylights.
If the pool was closed, he questioned how less-affluent locals would get to a new one in Kerikeri or how Kawakawa children would learn to swim.