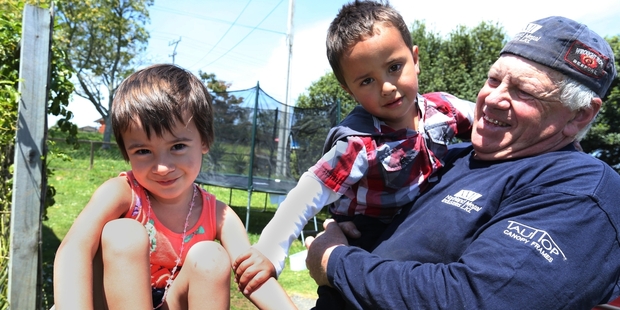 Ken Rogers saw the sad faces of two Kamo kids looking out from the Advocate earlier this month and knew he could help them.
Beau and Khalia Tohu-Morgan were upset after their favourite toy see-saw was stolen from their front yard.
Mr Rogers works at Northland Metals Industries, which is close to where the Tohu family live, and felt a lot of empathy for the sick girl.
"I read that [Khalia] was going through chemotherapy, and I know what it's like to go through chemo - I've had to too, and I just thought I was in a position to help," Mr Rogers said.
Khalia suffers from arthritis and vasculitis, an auto-immune disorder, and the see-saw was important for her daily exercise, Serena Tohu said.
Ms Tohu said her daughter takes a lot of pain relief medication and steroids, and every month is in hospital taking chemotherapy infusion to manage the disorder.
Northland Metal Industries manager Joe Ross agreed with Mr Rogers and the team put the see-saw together and delivered it free of charge to the family.
Ms Tohu couldn't believe it when the see-saw arrived at their home yesterday.
"It is awesome. Khalia screamed 'This is the most awesome see-saw ever'," she said.
The large metal see-saw is made to last and withstand the weather outdoors, and is far too heavy for thieves to steal.
"It's too big for anyone to make off with this time," Ms Tohu said.
Mr Rogers said two 20-year-olds had a go on it in the workshop before bringing it over, to test it could take any weight.
Khalia came running out of the house when the see-saw arrived smiling from ear to ear, and Beau gave Mr Rogers a huge hug.
They shrieked and laughed while playing on it and couldn't be coaxed off.
"They'll be there all afternoon now," Ms Tohu said.