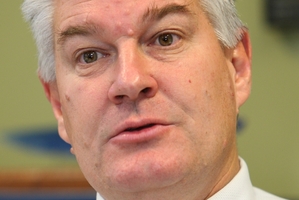 Local Government Minister Chris Tremain is yet to decide whether to hold an independent inquiry into the actions of Whangarei District Council CEO Mark Simpson in sacking a staff member for signing the nomination form of a mayoral candidate while letting another staff member work for a second mayoral candidate.
Mr Simpson has been cleared of any wrongdoing by the council after he sacked his assistant Jan Walters for signing the nomination form for Stan Semenoff, but let another of his staff Ford Watson to do some work for a second candidate Warwick Syers.
A review committee set up to look at the circumstances surrounding the two cases of three then councillors - Phil Halse, Jeroen Jongejans and John Williamson - and independent chair Auckland lawyer Simon Stokes, found that the Election Protocols partly used to sack Ms Walters, rather than the conduct of Mr Simpson, required closer examination.
This prompted Councillor Crichton Christie to write to Mr Tremain, urging him to hold an inquiry into the protocols and the actions of the CEO.
Cr Christie said an independent inquiry by Mr Tremain is the only way to resolve if Mr Simpson's actions were right as he felt the review team was not independent enough.
A spokeswoman for Mr Tremain said Mr Christie's letter is still with the Department of Internal Affairs awaiting a response from the minister.
Meanwhile, a date has yet to be set to hear an application by Mrs Walters to the Employment Court for a judicial review of the council review that found Mr Simpson had done nothing wrong in sacking her.
Mrs Walters' application to the court says it was carried out under irregular process and she was denied the opportunity to make a submission or put her version of events.
The statement of claim has been served on the council and once the council files a statement of defence a judicial conference is likely to be held to progress the matter or send it to mediation.