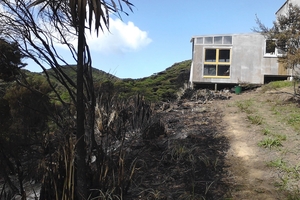 Far North mayoral candidate Sarah Watson has thanked firefighters for saving her house and possibly her life in the first serious scrub fire of the season.
Ms Watson, of Te Reinga Bay near Hihi, suffered minor burns to one arm and lost part of her fringe in last Wednesday's blaze. Several poles supporting her house were burned, a window shattered in the heat and plastic guttering melted.
Five helicopters were called out initially but three were stood down. The remaining two managed to stop the fire at a ridge, preventing its spread down the peninsula.
In a letter to the Northern Advocate's sister paper in Kaitaia, the Northland Age, Ms Watson expressed her heartfelt thanks to the chopper pilots and firefighters from Hihi, Taupo Bay, Karikari and Mangonui, who fought the blaze on the ground and then monitored the fire all night. She also thanked Hihi motor camp for providing the command post.
Ms Watson said the blaze was a warning to others.
She had had a fire but believed it was out because there was no more smoke coming from it.
"A few hours later a wind came up, I smelled smoke ... too late. This happens so fast. I'm lucky to have my life, my house and only a relatively small area of charred ground. Sadly, a friend of mine was not so lucky a few months back. Beware, fire is ferocious."
Ms Watson said Northland was already tinder-dry and urged anyone planning a fire to take precautions by clearing the area around the fire, having lots of water on hand and making sure the fire was out afterwards.
"If in doubt don't light the fire, ring the local fire brigade to see if it's okay," she said.
Principal rural fire officer Myles Taylor earlier told the Advocate he was amazed the house had survived.