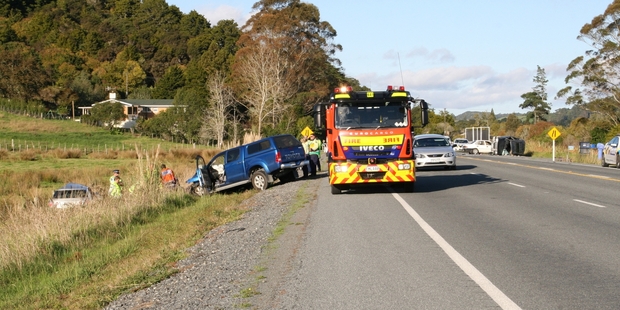 Two men have been charged in relation to a crash in which a four-wheel drive vehicle that was towing a car lost control and caused a double fatality in May.
Lawrence Harry Mark, 28, and Moetu Hetaraka 25, have been charged with two counts of aggravated careless driving causing death and four of aggravated careless driving causing injury.
They will appear in Whangarei District Court on the charges on November 6.
Two people were killed after the four-wheel drive vehicle that was towing another car lost control, causing a car to swerve to miss it and crash into oncoming traffic on State Highway 1, at Hukerenui, about 32km northwest of Whangarei, around 2.20pm on May 12.
Isaac Peters, 41, of Papatoetoe, Auckland, and Kirihimete Paniora, 69, of Waimamaku were in the car that tried to avoid the towed vehicle and died at the scene, while four more people received injuries.
Northland police acting road policing manager Senior Sergeant John Fagan said at the time the crash was a reminder to motorists to take more responsibility and care when travelling on our roads, especially when towing.
"The maximum speed you can tow another vehicle without a rigid towing system [such as with a rope or a strop] is 50km/h," Mr Fagan said.