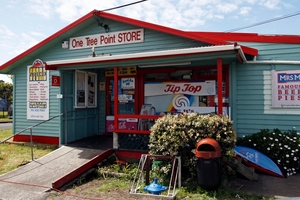 A man who allegedly grabbed money from the till of a beachside store while holding a knife was confronted by the owner.
The owners of the One Tree Point Store - who have been there only two months - were reluctant to talk about the drama that unfolded about 5.30pm on Wednesday, but they were thankful for the support the locals had given them.
The owner's wife, who is heavily pregnant, was in the back of the store when the robbery happened. Her husband confronted the man before he ran off.
Yesterday, one local customer turned up with a bunch of flowers and offered to help in anyway he could.
"It's no good really. They've just moved here and this sort of thing happens," he said.
Detective Sergeant Aaron Crawford of Whangarei police said it appeared a man armed with a knife had gone into the store, grabbed money from the till, and was then confronted by the owners, who were not behind the counter but nearby.
The man allegedly ran off with an amount of cash.
The alarm was raised and police were quickly in the area.
Mr Crawford said that thanks to a local, officers were able to quickly make an arrest.
At some stage the man had gone into the water off One Tree Point. "We would like to hear from anyone who may have seen someone in the water around that time," Mr Crawford said.
He also thanked and praised the locals for their help.
Police were not looking for anyone else.
Another neighbour, who did not want to be named, remembered seeing a man riding a bike up and down Graham St repeatedly before the robbery.
He said the man was wearing a jacket with the collar pulled up around his face and had something dark tied around the top of his head.
After riding along the street for a while he then disappeared and came back with a white scarf which covered most of his face. "I couldn't see much of him but he'd been up and down the road about five times.
"Then I saw him riding as fast as he could right past and he was holding on to something shiny in his right hand on the handlebars."
Mr Crawford said it was a reminder for shop owners to be vigilant following a string of aggravated robberies around Northland over the last few months.
A 20-year-old Whangarei man was remanded in custody after appearing in Whangarei District Court on a charge of aggravated robbery.
Anyone who may have information that could help police should ring Whangarei Police Station on 09 430 4500.