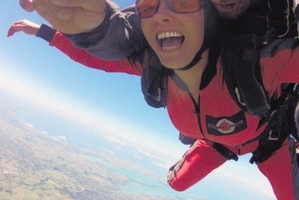 A Northland skydive company is under investigation for allegedly under-recording weights of customers taking part in tandem jumps.
The Civil Aviation Authority (CAA) has been contacting former customers of the Kerikeri-based Skydive Zone Bay of Islands, which was put into liquidation since the alleged wrongdoing occurred, to see if their weight matches that recorded on its tandem registration forms.
The forms are documents pilots use to make sure their aircraft are operating within their weight and balance limits.
The new operators, Skydive Bay of Islands, say they have already had an all-clear from the CAA.
Skydiving operators are required to weigh all passengers and crew to ensure the plane does not exceed its maximum takeoff weight and is balanced.
An investigation into a 2010 skydiving crash at Fox Glacier, which killed nine people, found the aircraft had exceeded its maximum weight.
In an email sent out to customers last week, CAA support officer Cristy Cable said the investigation was launched due to concerns that staff at the former company were allegedly under-recording passenger weights.
Of two customers known to the Advocate, one had her weight accurately recorded as 56kg ahead of a January jump but another had his weight listed as 63kg when he was in fact at least 78kg, 15kg heavier.
The customer, who did not want to be named, said he was reluctant to reply to the CAA's inquiry - but would have felt bad if something had later gone wrong. He assumed his weight had been altered so he could jump with his partner. They had shared a plane with two instructors and a pilot.
A CAA spokesman said the agency did not comment on investigations while they were in progress.
Skydive Bay of Islands director Hamish Funnell said Skydive Zone's liquidation in June was an opportunity for his Taupo-based firm to expand into the Bay of Islands.
Its first jump was on September 1.
Skydive Zone's plane and parachutes were taken to Taupo for checking by the firm's in-house inspectors, who cleared some gear and retired the rest. The CAA had inspected and approved the aircraft.
Mr Funnell said his company prided itself on being a step ahead of safety regulations.
It was the only firm in the North Island to meet new CAA rules as soon as they came into force last year, he said.
The new adventure aviation rules required parachute operators to be certified in the same way as small airlines.
The now liquidated Skydive Zone Bay of Islands operated out of Kerikeri Airport and offered New Zealand's highest tandem jump, from 19,500ft.
Owner Gavin Horrell is understood to have returned to the UK.