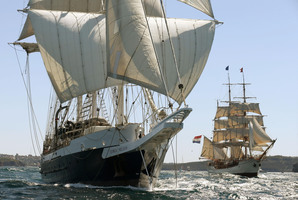 The winner of a trans-Tasman tall ships race is expected to arrive in the Bay of Islands tonight.
At 3pm today the Dutch barque Europa was still in the lead and due at the finish line off Russell's Tapeka Pt around 8pm.
The 102-year-old vessel rounded Cape Reinga this morning, followed by the Dutch gaff-rigged ketch Tecla and the barquentine Spirit of New Zealand.
Meanwhile, the powerful winds which allowed the fleet to arrive a day early brought trouble for the British ship Lord Nelson when part of its upper rigging broke.
Captain Chris Phillips said the breakage put the ship at risk of dis-masting so he had decided to retire from the race and continue under engine.
The broken part is a stainless fitting joining the two main royal backstays, supporting the top-most part of the main mast.
There was no immediate danger to the ship or any of the 46 people on board.
Captain Phillips expected to arrive at Opua on Friday morning. The damaged part would be removed and a ship yard in Whangarei would be asked to make a new one.
The Canadian ship Picton Castle pulled out several days ago, which leaves just five vessels in the race. It is also continuing under motor.
The crews will be welcomed with a powhiri at Russell's Haratu Marae at 4pm on Saturday. Europa and Lord Nelson will be open to the public from 1-4pm at Opua wharf on Sunday.