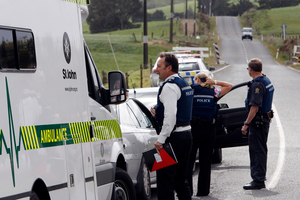 Police are waiting for the results of a post mortem examination as they try to establish how a 36-year-old man died in a Northland home.
Officers were called to a house on Whananaki North Rd on Friday about 9.30am and discovered the dead man.
Detective Sergeant Dene Begbie said a 50-year-old man who lived at the property, about 42km northeast of Whangarei, was taken to Whangarei Police Station and interviewed but no charges had been laid.
The body was taken from the house late on Saturday and taken to Auckland where an autopsy was expected to be completed yesterday. Volunteer firefighters from Hikurangi helped put up tarpaulins to protect the scene.
Scientists from Auckland started their inspection of the house on Saturday and expected to have it completed today.
"We are still trying to piece together what happened and we are working our way through examinations," Mr Begbie said.
"The scene examination and post mortem are critical."
On Friday police said they were treating the death as a potential homicide.
The house is located on family land in native bush on top of a hill accessed by a track that crosses a small creek. Earlier on Friday, as police waited for the man to come out of the house, a cordon was put in place about 4km away at Whatmough Rd.
Family members, including the 50-year-old's partner and adult daughter, were spoken to at the cordon by police.
Eventually the 50-year-old walked out with police and was put in the rear of a police car.