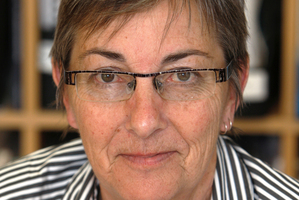 The voting results for Whangarei are littered with the anti-Hundertwasser sentiment.
Tricia Cutforth now has to prove she is more than a one trick anti-Austrian pony and that she can also listen, because having endured sitting in front of her during the pecha kucha mayoral evening, I can tell you that she can talk, incessantly. Good on her though, she was also brave enough to risk putting the name Cutforth on a sign. Most definitely, she is not an, err, snigger in the woodpile.
Jeroen Jongejans - gone. I hope the pro-Hundertwasser campaigner remains positively positive about his experience as a councillor though, Whangarei needs people like Jeroen to champion the town.
The unluckiest candidate? Without a doubt Warren Slater.
Having met him several times, I believe he would have been an extremely hard working honest councillor slogging his guts our for the community. He suffered from being in a large pool of councillor candidates, after gaining respect on the mayoralty husting.
I think he would have been a risk as mayor but a damned good councillor and there are people of lesser calibre, I believe, who have been elected.
Best "My Vision" statement?
Hands down Northland Regional Councillor Craig Brown (re-elected) who mused about his dream being to wake up and find that the infighting and conflicts within Northland politics had ended.
Surprises? David Sinclair's win, essentially at the expense of Bill Rossiter, is ratepayers saying they are fed up with the old and want the fresh new. I think Rossiter may have been complacent, his election signs looked suspiciously like they had been dusted off from two elections ago. And he wasn't the only one. An integrity award must go to for Shelley Deeming whose campaign manager passed away days before the sold-out Meet the Mayor meeting. It must have been hard on many levels for Shelley. But she did not mention it, got stuck in and reflected the attitude and hard work that her supporters publicly praised her for.
Time to give up for some?
I am yet to fully understand Vince Cocurullo's political policies. He is a fantastic cheerleader but I personally wouldn't put him in charge of training the squad. And who knows what Stan Semenoff will get up to next, other than I know he will fight to the end to ensure the mess surrounding the sacking of his former PA by council CEO Mark Simpson is tidied up to his satisfaction. I hope Stan has plenty of time, because that one could take a while.