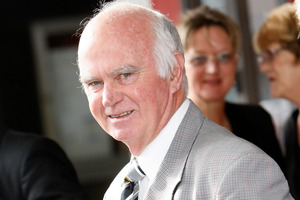 While Sheryl Mai won the race to be Whangarei's new mayor, the other person who will be celebrating her win is sitting Denby Ward Councillor John Williamson.
Mr Williamson came fourth in the ward, which has three councillors, with 1752 votes, behind Ms Mai (with 2846 votes), newcomer Tricia Cutforth (2025) and incumbent Crichton Christie (1994).
But despite losing when the provisional results came through, because Ms Mai cannot be Mayor and a ward councillor her seat in the ward goes to the next highest polling candidate - Mr Williamson.
While he will be breathing a sigh of relief, long-time councillor Kahu Sutherland was a victim of the winds of change that swept through the ward, missing out on being re-elected after pulling in 1577 votes to come in fourth.
Next, in order, were Chris Barber (1458), Roger Clark (734), Kiri Peeni (610) and Les Wakefield (519).
In the Bream Bay Ward there was no change with incumbents Shelley Deeming (with 2355 votes) and Phil Halse (1896) both being re-elected. They were followed by Evelyn Johnson (1020) and Thomas McClelland (751).
It was a mix of old and new in the Okara Ward, which has four councillors, with incumbents Sue Glen (with 2836 votes) and Brian McLachlan (2353) getting re-elected, along with former councillor Cherry Hermon (2220) and newcomer Stuart Bell (1992) also being elected.
The unsuccessful candidates in the ward were; sitting councillor Merv Williams (1963), Warren Slater (1910), Jonny Wilkinson (1620), Tim Bell (1266), Duncan Coutts (1256), Bruce McGregor (1250), David Harris (1106), Rhonda Kawiti (916), Jess MOrgan (881), Maureen Lyons-Adair (722), John
Himiona (527), Esther-Jordan Muriwai (430), William Leonard (349) and Glenn Chapman (303).
In the Hikurangi/Coastal Ward Susy Bretherton won one of the two seats at her first attempt, bringing in 1759 votes, followed by incumbent Greg Martin with 1673.
Sitting councillor Jeroen Jongejans lost his seat in third place with 1276 votes followed by Ian Peters (1082), Robert Carpenter (317), Dave Gundry (266) and Steve McNally (176).
There was always going to be a new councillor in the Whangarei Heads Ward with incumbent Warwick Syers only standing for the mayoralty and newcomer Greg Innes won the seat with 691 votes, however, with the second place getter Kim Jones polling 663 votes there is a chance of the
result being changed once special votes are counted.
The other unsuccessful candidates in the ward were; Richard Engdahl (296 votes), Pete Ludlow (277) and Brian may (246).
Sharon Morgan was elected unopposed in the Maungatapere/Mangakahia Ward.
So in summary, there's a new Mayor of Whangarei _ Sheryl Mai _ while returning as councillors are Ms Morgan; Ms Deeming, Mr Halse, Mr Christie, Mr Williamson, Mr Martin, Ms Glen and Mr McLachlan.
New councillors are; Ms Cutforth, Ms Bretherton, Mr Bell, Ms Hermon and Mr Innes.
The formal election results will be released on Wednesday.